The popular pastime in which people use clubs to hit balls into a bunch of holes, a.k.a. golf, got a surprise makeover in Florida last week. A gigantic alligator, whose identity has not been revealed, casually strolled across the Buffalo Creek Golf Course in Palmetto Wednesday while appearing entirely disinterested in things like par and bogey.
Footage of the golf-crashing gator, captured by Charles Helms and obtained byABC Action News, unfortunately doesn't feature the gator picking up a club and showing humans how to really crush a round of golf. "I was stunned and silent," Helms told reporters Monday. "I didn't know if we were being punked or something." In the footage, a voice can be heard theorizing that the admittedly gargantuan gator just might be two guys in a gator suit.
But this golf-appreciating gator, estimated to be at least 15 feet long, isn't alone in his headlines-crashing ways. There's also this guy: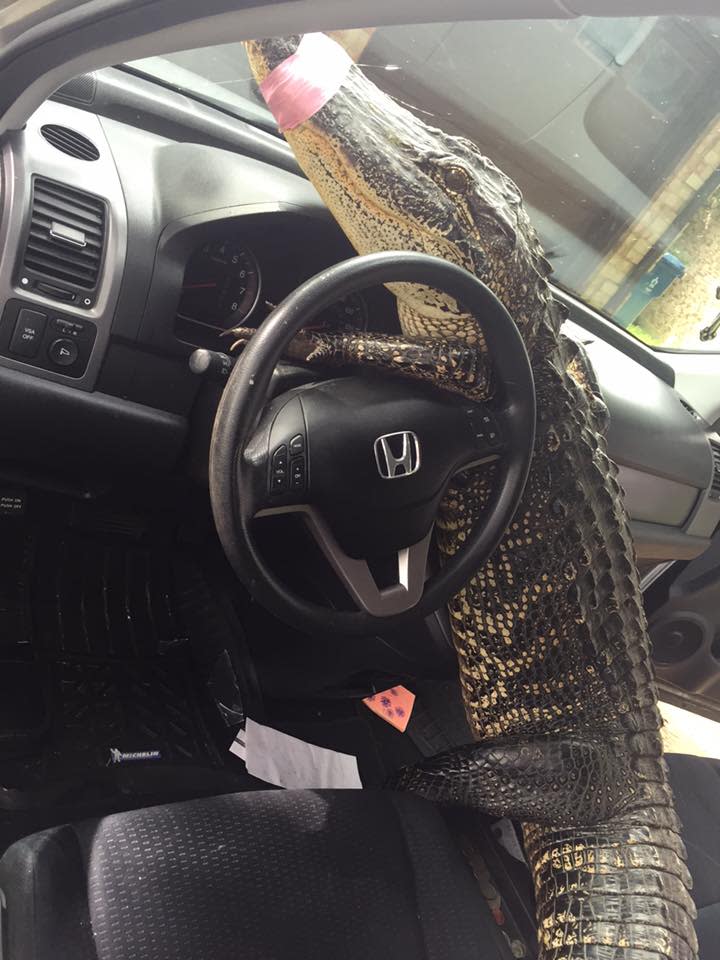 Christy Kroboth, who runs a Texas not-for-profit centered on educating the general public about the importance of gators, noticed Sunday that a nearly 8-foot gator had cracked a windshield in an attempt to escape her SUV. Kroboth had rescued the blind gator from a dire living situation and was moving him to a new forever home, CW39 reports.
In more troubling news, two gators were found in the Florida Everglades Monday eating human remains. "We want to identify who the victim is and possibly figure out what happened to them, how did they end up here," Sgt. Pablo Castaneda toldthe Sun-Sentinel of the incident. "Could it be homicide? Could it be suicide? Could it have been natural—a fisherman? We don't know. Authorities are conducting an autopsy to determine the initial cause of death."
Stay safe out there.