It hasn't even been a week yet — and already White women are being positioned in the narrative that centered around how Black women are relentlessly demeaned and degraded with the systemic comparisons to primates.
Former first lady Michelle Obama was subjected to that treatment throughout her term and the recent attack from comedian Roseanne Barr — which she wildly blames on her dependency on Ambien — has resulted in the loss of her highly-rated show on ABC.

The victim of this latest controversy is Valerie Jarrett — senior advisor to President Obama — who has graciously refrained from giving Roseanne the satisfactory comeback — and is instead more concerned about the longterm effects of a climate that breeds this level of venom against those that resemble her template.
Now — the nation is at a standstill after Samantha Bee — host of Full Frontal — on TBS — used Ivanka Trump as an example of what it's like to be blissfully cocooned in Whiteness to the point of blatant ignorance.
The host blasted the first daughter's antics on her show and ended her segment by calling Trump the c-word — and of course that has given White feminists all the ammunition they need to shed tears of rage — as they call out a double standard and demand appropriate action be taken.
"Ivanka Trump, who works at the White House, chose to post the second most oblivious tweet we've seen this week." "You know, Ivanka, that's a beautiful photo of you and your child, but let me just say, one mother to another, do something about your dad's immigration practices, you feckless c*nt!"
Truth be told — I've written a couple of pieces that express my disgust at Ivanka Trump's participation in an administration that showcases her father's deplorable attitude towards non-Whites — in ways that are unpatriotic and often times deadly.
It's pretty clear that the women who work under a bullish racist — including White House Press Secretary Sarah Huckabee Sanders and the president's "Counselor" — Kellyanne Conway — are all endorsing his destructive agendas — and of course the heartless motives behind Ivanka Trump's tweeted photo is proof of where she stands on the issue of immigration.
That being said — it was pretty ballsy of Samantha Bee to use the word "cunt" on her televised show — but in this case — you can't deny the validity of the outrage being directed at a privileged White woman — who prefers to remain in the background while mothers are screaming in agony at the borders — for the luxury that she gleefully puts on display.
And now we have notables like Megyn Kelly — coming to the defense of the first daughter and tweeting their displeasure as if their track record is blemish-free.
This is disgusting. How is this acceptable? And how are we expected to take any of these publications seriously if they gleefully repost something like this at the same time they (rightfully) condemn @therealroseanne? You know the saying Love is Love? Well Hate is Hate.
Samantha Bee shreds 'feckless c*nt' Ivanka Trump: 'Do something about your dad' http://ow.ly/QEUP30kgqpt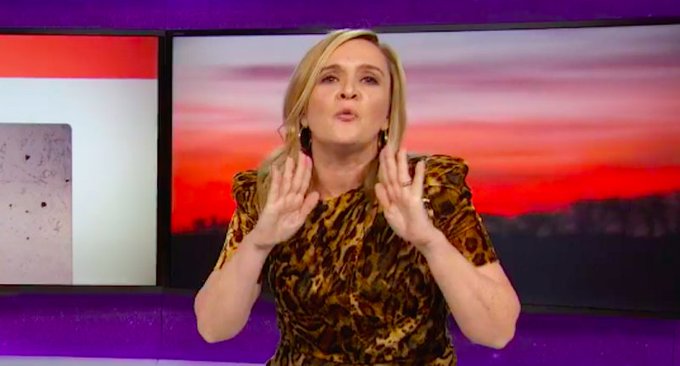 First — off — Kelly is the last person to speak out against hateful rhetoric when she's in fact the ringleader in this realm. The former Fox employee used her platform — The Kelly File — as a tool of celebrated bigotry against Black children — when she emphatically assured White children that their image of a White Santa and White Jesus was the only truth that matters.
Megyn Kelly also used her show to blast the memory of Sandra Bland by shamelessly blaming Bland for her own death — and painting the image of her as the "angry Black woman" who forced the state trooper to violently yank her out of the vehicle and pummel her to the ground.
As the rallying around Ivanka Trump reaches a fevered pitch — I can't help but be astounded at how White women somehow manage to overtake the conversation whenever Black women are the focus.
Even The White House couldn't resist issuing a statement about how their beloved Ivanka was victimized in a way that shouldn't ever be tolerated:
"The language used by Samantha Bee last night is vile and vicious. The collective silence by the left and its media allies is appalling.'
Actually — what's appalling is the fact that The White House had nothing to say about Jarrett being compared to an ape — and instead took the cue from the president by listing examples of when Trump has been targeted unfairly without the decency of a public apology.
The messaging seems to be that only White women need to be defended when they're attacked — and when Black women suffer even worse treatment — the only acceptable response is silence.
The "double standard" defense is just evidence that White feminism is at the core of White supremacy.
The language that is often times used to describe this toxic administration and the faces associated with it — may seem insulting and even downright vile — but the truth is ugly and there's not way to sugar coat the facts.
You can't compare that to the overt racism that regulates notable Black women to the derogatory practice of a longstanding tradition — that's supposed to strip us of our humanity and dignity.
Likening Black women to a primate has become the acceptable way to insult Black women — and there's no reason for this other than to make the distinction between our non-valued disposition and the more celebrated station of our White counterparts.
Yes — Samantha Bee is sorry and her issued apology is exactly what The White House wanted — and it also helps to give White feminists the assurance that their emotions matter enough to reinforce their relevance above all else.
Meanwhile — nobody dares to clean up the shitty vocabulary of the Commander-in-Chief — as he calls my country a shithole — accuses Mexicans of being murderers and rapists — and then declares White supremacists as "very fine people."
I guess it would've been safer to call Donald Trump the "c-word" instead.