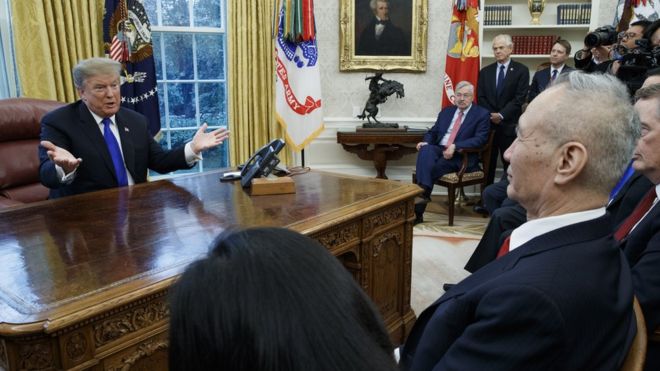 US President Donald Trump with China's top trade official, Vice Premier Liu He
The US-China trade war has escalated in recent days, with both countries announcing new tariffs on each other's goods.
US President Donald Trump has said repeatedly that China will pay these taxes, even though his economic advisor, Larry Kudlow, on Sunday admitted that US firms pay the tariffs on any goods brought in from China.
So is Mr Trump wrong when he says the trade war is good for the US, and generating billions of dollars for the US Treasury?
And who will lose most as the conflict escalates?
Who really pays the US tariffs?
US importers, not Chinese firms, pay the tariffs in the form of a taxes to the US government, confirms Christophe Bondy, a lawyer at Cooley LLP.
Mr Bondy, who was senior counsel to the Canadian government during the Canada-EU free trade agreement negotiations, says it is likely that these additional costs are then simply passed on to US consumers in the form of higher prices.
"They [the tariffs] have a strongly disruptive effect on supply chains," he said.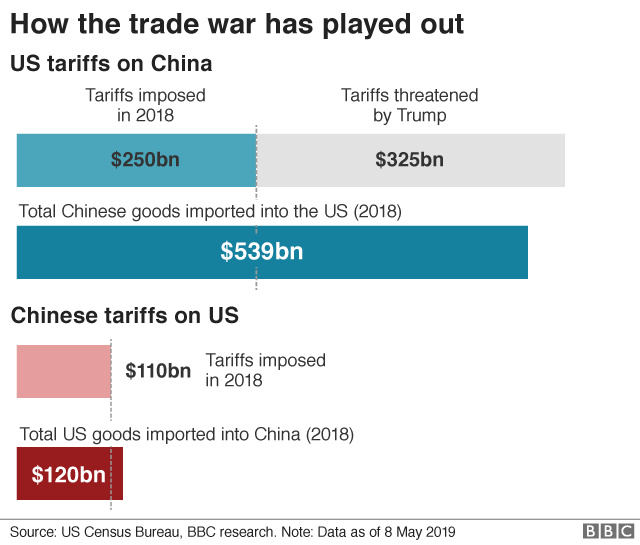 What has the impact been on China?
China remains America's top trading partner, with exports rising 7% last year. However, trade flows to the US slipped 9% in the first quarter of 2019, suggesting the trade war is starting to bite.