Tyler Perry Breaks Down Crying As He Tells Oprah More About His Abusive Past
Actor Tyler Perry generously picked up the tab for layaways at two Walmarts outside Atlanta, Georgia. The total cost came to $434,000! Customers and their kids were crying over his generosity. "My mom didn't know how she was going to pay because of the bills," one child told TV station WGCL. Perry wanted to keep his donations anonymous but word still got out about his good deed.
++++++++++++++++++++++++++++++++++++++++++++++++++++++++++++++++++++++++++++++++++++++++++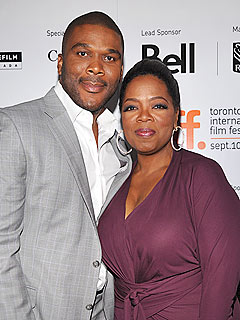 People.com

: He stunned his fans last year with revelations of his abusive past and now Tyler Perry is opening up about just how bad it got. In a new interview with Oprah Winfrey, which aired Wednesday, the writer-director says his own father beat him brutally. In one harrowing moment, he recalls when his father whipped him with a vacuum cord.

"To this day, I don't know why he did it," Perry, 41, says in the interview. "But I remember him cornering me in a room and hitting me with this vacuum cleaner cord. He would just not stop." After another abusive incident, Perry says he blacked out for three days.

How to Cope

Eventually, he found a small way to cope – by daydreaming about a nearby park his mother used to visit with him. "Every time somebody was doing something to me that was horrible, that was awful, I could go to this park in my mind until it was over," Perry says.

On top of his father's beatings, Perry says he was sexually abused by four different adults, beginning when he was five or six. On one occasion, he was building a birdhouse with an adult male neighbor who proceeded to put his hands in Tyler's pants. "I felt my body betraying me," he says, "because I felt an erection at that age."

Later, Tyler said he was sexually molested by a male nurse and a man he knew from church. The man from church "used God and the Bible against me to justify a lot of the things that were going on. It was so horrible," he said. "And that was my first sexual experience – with this man performing oral sex on me as a boy."

Thoughts of Suicide

When it all became unbearable, Perry says he slit his wrists and tried to commit suicide. "I thought, 'What is the point of living?'" he says. "My mother was truly my saving grace, because she would take me to church with her."

All these years later, Perry says the catalyst for his candor was his mother's death last year. "I knew if I spoke about this, that she would be hurt," he says. "I feel this tremendous sense of, 'Now it's time for me to take care of me and get some of this stuff out of me and be free from it.'"

Forgiveness

Ultimately, Perry says it was forgiveness that helped him begin to heal. "I forgave him," Perry says of his father. "The same amount of strength to take it is the same amount of strength it takes to let it go. As a man I am not going to sit here and let myself suffer anymore."