Protester Vic Suter says she was shackled to a bench and denied access to a lawyer during detention at Homan Square facility in 2012
The facility, a nondescript warehouse on Chicago's west side known as Homan Square, has long been the scene of secretive work by special police units. Interviews with local attorneys and one protester who spent the better part of a day shackled in Homan Square describe operations that deny access to basic constitutional rights.
Alleged police practices at Homan Square, according to those familiar with the facility who spoke out to the Guardian after its investigation into Chicago police abuse, include:
Keeping arrestees out of official booking databases.
Beating by police, resulting in head wounds.
Shackling for prolonged periods.
Denying attorneys access to the "secure" facility.
Holding people without legal counsel for between 12 and 24 hours, including people as young as 15.
At least one man was found unresponsive in a Homan Square "interview room" and later pronounced dead.
Brian Jacob Church, a protester known as one of the "Nato Three", was held and questioned at Homan Square in 2012 following a police raid. Officers restrained Church for the better part of a day, denying him access to an attorney, before sending him to a nearby police station to be booked and charged.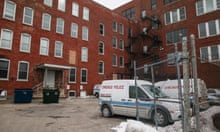 This building looks innocent enough. But those familiar with the secretive interrogation and holding facility describe a shocking display of police abuses
"Homan Square is definitely an unusual place," Church told the Guardian on Friday. "It brings to mind the interrogation facilities they use in the Middle East. The CIA calls them black sites. It's a domestic black site. When you go in, no one knows what's happened to you."
The secretive warehouse is the latest example of Chicago police practices that echo the much-criticized detention abuses of the US war on terrorism. While those abuses impacted people overseas, Homan Square – said to house military-style vehicles, interrogation cells and even a cage – trains its focus on Americans, most often poor, black and brown.
Unlike a precinct, no one taken to Homan Square is said to be booked. Witnesses, suspects or other Chicagoans who end up inside do not appear to have a public, searchable record entered into a database indicating where they are, as happens when someone is booked at a precinct. Lawyers and relatives insist there is no way of finding their whereabouts. Those lawyers who have attempted to gain access to Homan Square are most often turned away, even as their clients remain in custody inside.
"It's sort of an open secret among attorneys that regularly make police station visits, this place – if you can't find a client in the system, odds are they're there," said Chicago lawyer Julia Bartmes.
Chicago civil-rights attorney Flint Taylor said Homan Square represented a routinization of a notorious practice in local police work that violates the fifth and sixth amendments of the constitution.
"This Homan Square revelation seems to me to be an institutionalization of the practice that dates back more than 40 years," Taylor said, "of violating a suspect or witness' rights to a lawyer and not to be physically or otherwise coerced into giving a statement."
Much remains hidden about Homan Square. The Chicago police department did not respond to the Guardian's questions about the facility. But after the Guardian published this story, the department provided a statement insisting, without specifics, that there is nothing untoward taking place at what it called the "sensitive" location, home to undercover units.
"CPD [Chicago police department] abides by all laws, rules and guidelines pertaining to any interviews of suspects or witnesses, at Homan Square or any other CPD facility. If lawyers have a client detained at Homan Square, just like any other facility, they are allowed to speak to and visit them. It also houses CPD's Evidence Recovered Property Section, where the public is able to claim inventoried property," the statement said, something numerous attorneys and one Homan Square arrestee have denied.
"There are always records of anyone who is arrested by CPD, and this is not any different at Homan Square," it continued.
The Chicago police statement did not address how long into an arrest or detention those records are generated or their availability to the public. A department spokesperson did not respond to a detailed request for clarification.
When a Guardian reporter arrived at the warehouse on Friday, a man at the gatehouse outside refused any entrance and would not answer questions. "This is a secure facility. You're not even supposed to be standing here," said the man, who refused to give his name.
A former Chicago police superintendent and a more recently retired detective, both of whom have been inside Homan Square in the last few years in a post-police capacity, said the police department did not operate out of the warehouse until the late 1990s.
But in detailing episodes involving their clients over the past several years, lawyers described mad scrambles that led to the closed doors of Homan Square, a place most had never heard of previously. The facility was even unknown to Rob Warden, the founder of Northwestern University Law School's Center on Wrongful Convictions, until the Guardian informed him of the allegations of clients who vanish into inherently coercive police custody.
"They just disappear," said Anthony Hill, a criminal defense attorney, "until they show up at a district for charging or are just released back out on the street."
http://www.theguardian.com/us-news/2015/feb/24/chicago-police-detai...