Possible downfall? Donald Trump N-word tape said to be released before the midterms {VIDEO}
Tom Arnold, 59, is on a mission to bring down his former pal President Donald Trump with his new series, The Hunt for the Trump Tapes which airs Tuesday
Arnold's show follows his quest to find tapes of Trump using the N-word and includes interviews with Russian prostitutes linked to the Steele dossier
The upcoming Vice series led to a fight when Arnold claims Apprentice producer Mark Burnett choked him at an Emmy party in Los Angeles on Sunday night
The actor turned activist told DailyMailTV he isn't afraid of multi-million dollar lawsuits and death threats or that the show will hurt his reputation 
Arnold is confident the revelations will lead to Trump resigning and he won't rest easy until he does, adding: 'I will not hold anything back, whatever can be done'
Tune into DailyMailTV's second season with host Jesse Palmer by going to Dailymail and checking your local listings 
Arnold claims that Burnett started the fight, likely after he was confronted about the alleged tapes of President Trump making racial remarks on The Apprentice (Arnold's initial tweet after the fight above)
'Mark Burnett just went apes** & choked me at this huge Emmy party then he ran away with his torn Pink shirt & missing gold chain. I'm waiting for LAPD,' wrote Arnold on Twitter after the fight.
Multiple people who witnessed the fight told DailyMail.com that the two men were shoving one another but it was unclear who was started the altercation.  
Speaking to DailyMailTV in the days before the fight, Arnold said he wasn't concerned for his safety 'because the people who get scared – they've quit. I'll quit when it's over. No, I'm not scared about my welfare.
'That's what they do. They threaten to sue you, kill you, or ruin your reputation, which I have a terrible reputation, no money, and I'm not afraid of dying, obviously.
'So when Trump resigns, which will be soon, then I'll take it easy.'
Arnold's show, which follows his quest to find tapes of Trump using the N-word will also include interviews with Russian prostitutes linked to the infamous dossier by English spy Christopher Steele alleging unusual sex acts.
Speaking at TV Legend Ed Asner's 6th Annual Celebrity Poker Tournament raising funds for autism, in Los Angeles, Arnold added that Trump is 'out of his freaking mind' and that he can't wait to show the world his findings on TV.
Tom Arnold is 'not afraid of dying' in his quest to bring down President Donald Trump with his highly anticipated new TV series - The Hunt for the Trump Tapes
In June, Arnold posted a photo with Trump's former personal lawyer Michael Cohen saying: 'This is my new buddy. Such a sweet man. So grateful we had the opportunity to meet up and actually talk tonight in New York' 
The True Lies star, and former husband of controversial Trump supporting actress and comedienne Roseanne Barr (pictured together on their wedding day in 1991), says his former friend Trump will resign once he gathers more evidence of his alleged wrong doing
'They're fixated because the most powerful man in the world is out of his freaking mind and it just so happens I have a show called The Hunt For The Trump Tapes and it just so happens that there are so many coincidences or things in my life that are in common with this guy,' he explained.
Arnold continued: 'When I have a lot of things in common with the President of the United States, you know he shouldn't be the President of the United States.' 
Arnold reckons he has corroboration of Trump using the N-word during his time on The Celebrity Apprentice on NBC.
But he promises other revelations too.
He said: 'There are seven people on the show who have come forward. There's more than that. There's every tape. If I get something tonight that can change what's going on now, I will not wait for my show.
'I have serious people along with my crazy self. I will not hold anything back and I promise you, whatever can be done.'
Also in June, Arnold met with former White House Director of Communications Anthony Scaramucci, writing that the former staffer 'was the first Trump bud to unequivocally call out the Trump Administration publicly for this horrific child separation mess'
Arnold reckons he has corroboration of Trump using the N-word during his time working on The Celebrity Apprentice. Pictured: The actor with his two children
Over the past two years Trump has been hit by damaging scandals and claims of affairs with porn stars, but it seems to have not impacted his appeal.
Arnold admitted: 'Will [the show] make an impact? Well, when you see what we're doing, he will resign. First of all, I would suggest that everybody do whatever they can and anybody who's doing whatever they can to stand up and say, ''Stop it. This is my country. This is a crisis''.'
Arnold continued: 'Anybody who knows what's really going on and stands up and says, ''I'm willing to risk everything, because this is that important,'' I respect them.
'And there are people who do that and whether that makes a difference, if I'm a feather on the scale that makes this go down, then that's worth it to me.
'And I would suggest that every day it's getting closer to happening.'
Arnold, who is close friends with Terminator star and former California Governor Arnold Schwarzenegger, recalled how he was once close to Trump.
He said: 'Trump's a nightmare. I met Trump 30 years ago. He's been on my sports show, I know him socially.
On the street: 'Here I am with #TomArnold right after the fight with Mark Burnett tonight. Everyone in LA is shaken. Pre-Emmys Madness. Hold your loved ones tight, ' wrote Billy Eichner (above with Arnold after the fight)
Reality stars: Burnett is the creator and producer of The Apprentice, and Arnold has a new show airing this week called The Hunt for The Trump Tapes (Burnett above in 2017)
'I've been to Playboy Mansion with Trump, I went with the creepy guy, and all of a sudden he wanted me to come on The Apprentice, he used to call my house, we were sort of friends and then he started the birther crap and I was like, ''Hell no,'' and then from that point on, I can't believe he got elected.
'I have friends who worked on his show, who worked on my sports show who put together a little compilation tape with the N-word etc., and so I'm going to make him resign. 
'He's a horrible person, he's incompetent, he's out of his mind, and the people who support him are also horrible racists, so soon he will be resigning. 
'That's it, he's horrible and everybody who supports him is horrible and f*** them. That's what's going to happen.' 
++++++++++++++++++++++++++++++++++++++++++++++++++++++++++++++++++++++++++++++++++++++++++
An alleged tape of President Trump using the n-word will likely be released just before this year's midterm elections. At least, so says former White House aide, Omarosa Manigault Newman in her latest prediction.
Monday, during a segment of ABC's The View, Manigault Newman was questioned about her previous statements of praise for Trump before she was ousted from the White House last year, and whether she had personally heard him use a racial slur.
"I don't hold the tape. I've heard the tape and they've been talking about releasing it. I'm suspecting they're going to release it around the midterms," she told the co-hosts, referring to an ominous "they" and her own claim of having heard Trump say the n-word on the alleged tape.
Actor Tom Arnold has also made claims about tapes recorded during the filming of Trump's former reality show, The Apprentice, and also alleges that foul and racist language was used off-camera.
But Manigault Newman doesn't believe the tape will hurt Trump when it comes to his political base.
"The Trump world cult will probably applaud when they hear him say it because they're desensitized to his racist ways," she said while promoting her new book, Unhinged: An Insider's Account of the Trump White House.
The notorious reality star also tried to explain what led her to flip on the President, who she has always credited as a mentor who has helped with her career trajectory ever since she was a contestant on The Apprentice 14-years ago.
"When you're in an interpersonal relationship with somebody, if you find that person is an arsonist you're not going to stand by and keep handing them gasoline, I discovered that Donald Trump was an arsonist trying to burn down this country. And, in some way, I was complicit in handing him matches and give him more fuel for his fires," she said.
First there was one…
Earlier in the segment, she also pointed out that now that she's no longer employed by his administration, there was currently no other Black staffer working in the White House.
"As the only African-American assistant to the President, the only African-American senior staffer working in the White House, I was afraid that the agenda that helped folks in my community would be abandoned and right now I can tell you there is no African-American senior staffer working in the White House," Manigault Newman said.
++++++++++++++++++++++++++++++++++++++++++++++++++++++++++++++++++++++++++++++++++++++++++
Trump's ex-doorman reveals 30K contract he signed with the National Enquirer barring him from speaking to anyone else about his claims the President had an illegitimate child with a housekeeper
Vice President Mike Pence, Secretary of State Mike Pompeo and Intelligence Director Dan Coats are flatly denying they are the writer of NYT piece
Five other Cabinet officials joined in the denials
Sarah Sanders tells the media to 'STOP' speculating on who wrote the piece
CNN reports President Trump is reading all the denials 
A Pence spokesperson said the vice president 'is above such amateur acts 
Their denials come as official Washington and President Trump are seeking the identity of the writer 
Who wrote it has become Washington's new favorite guessing game 
Secretary of State Mike Pompeo also said 'it's not mine'
Pence's office tweeted a denial
And White House press secretary Sarah Sanders is slamming the who-wrote-it game going on in Washington D.C., advising the media to 'Stop.'
'The media's wild obsession with the identity of the anonymous coward is recklessly tarnishing the reputation of thousands of great Americans who proudly serve our country and work for President Trump. Stop. If you want to know who this gutless loser is, call the opinion desk of the failing NYT at 212-556-1234, and ask them. They are the only ones complicit in this deceitful act. We stand united together and fully support our President Donald J. Trump,' she said in a statement posted to her twitter account.
The flood of denials are just as much for Trump as they are for the public, CNNreports.
The president is reading the statements carefully, which are being printed off and given to him, an official told the news network, adding the denials have one audience above all - Trump himself.  
And few Cabinet officials don't want to be on the no-comment list. 
Pence's denial was especially noteworthy after online speculation about who penned the piece narrowed in on the vice president, making him the odds on favorite as being the author. 
Jarrod Agen, Pence's deputy chief of staff and communications director, tweeted that the vice president 'puts his name on his op-eds.'
WHO'S DENIED AUTHORSHIP
Vice President Mike Pence
 Secretary of State Mike Pompeo
Director of National Intelligence Dan Coats
Department of Homeland Security Secretary Kirstjen Nielsen 
Housing and Urban Development Secretary Ben Carson
Defense Secretary James Mattis
Treasury Secretary Steve Mnuchin
Attorney General Jeff Session 
'The Vice President puts his name on his Op-Eds. The @nytimes should be ashamed and so should the person who wrote the false, illogical, and gutless op-ed. Our office is above such amateur acts,' he wrote Thursday morning. 
And Pompeo told reporters during a visit to India that it wasn't him either.
'It's not mine,' he said, according to the Associated Press.
'I come from a place where if you're not in a position to execute the commander's intent, you have a singular option, that is to leave,' Pompeo said.
And Coats put out a statement denying either he or his deputy wrote the piece.
'Speculation that The New York Times op-ed was written by me or my Principal Deputy is patently false. We did not. From the beginning of our tenure, we have insisted that the entire IC remain focused on our mission to provide the President and policymakers with the best intelligence possible,' he said.  
'.@stevenmnuchin1 is honored to serve @POTUS & the American people. He feels it was irresponsible for @nytimes to print this anonymous piece. Now, dignified public servants are forced to deny being the source. It is laughable to think this could come from the Secretary,' tweeted Treasury Department spokesperson Tony Sayegh of Mnuchin. 
'Secretary Nielsen is focused on leading the men and women of DHS and protecting the homeland - not writing anonymous and false opinion pieces for the New York Times. These types of political attacks are beneath the Secretary and the Department's mission,' press secretary Tyler Q. Houlton said.
'Haha nope,' said a spokesperson for Carson. 
A Pentagon spokesperson denied it was Mattis.
'It was not his op-ed,' spokesperson Dana White said.
A Justice Department spokesperson told CNN Sessions was not the author. 
Director of National Intelligence Dan Coats denied he wrote The Times piece
Trump claims a 'deep state' is working against him
Who wrote the piece has become Washington's new guessing game and even the president is playing.
Inside the West Wing on Wednesday, senior officials canceled afternoon meetings to start the search process, the Wall Street Journal reported. 
Some staff were even calling reporters to ask if they knew who wrote the piece.
And a new report in Axios revealed Trump had fretted about leaks long before the latest revelations from Woodward and The Times' piece. 
The president carried the hand-written list of leakers for some time last year.
'He would basically be like, 'We've gotta get rid of them. The snakes are everywhere. But we're getting rid of them,'' a source close to Trump told the publication.
Another source said Trump would examine the back seats of the Roosevelt Room during a meeting and look at the aides gathered there. 
'One day, after one of those meetings, he said, 'Everything that just happened is going to leak. I don't know any of those people in the room.' ... He was very paranoid about this,' according to the account. 
When it comes to negative stories involving the West Wing, the president looks at how forcefully aides respond them.
Former Secretary of State Rex Tillerson never denied calling Trump a 'moron' and a former senior White House official told CNN that Trump 'never forgave him for it.'
Tillerson was fired in March. 
Treasury Secretary Steve Mnuchin is denying authorship as is Attorney General Jeff Sessions
Defense Secretary James Mattis and Housing and Urban Development Secretary Ben Carson are denying authorship
Homeland Security Secretary Kirstjen Nielsen is denying she's the author
A Trump friend told the Washington Post the president believes he can only trust his children.
The president reacted to The Times piece with 'volcanic' anger and was 'absolutely livid,' The Post reported. 
Trump suspects the author works on national security issues or in the Justice Department. 
One senior administration official told Politico the White House is in 'total meltdown' over the op-ed.
And the president is publicly expressing frustration that his own administration is working against him, claiming again he is a victim of 'the deep state.'
'The Deep State and the Left, and their vehicle, the Fake News Media, are going Crazy - & they don't know what to do,' he wrote on Twitter Thursday morning. 
The guessing game has spread to Capitol Hill.
'I guess by process of elimination we'll come down to the butler,' House Democratic Leader Nancy Pelosi joked to reporters.
The New York Times opinion piece describes the president as 'impetuous, adversarial, petty and ineffective' and says the author is part of an organized 'resistance' whose goal is 'to preserve our democratic institutions while thwarting [President] Trump's more misguided impulses until he is out of office.' 
Within hours of its publication, online chatter Wednesday quickly focused on Pence as observers focused on one line describing the late Sen. John McCain as 'a lodestar for restoring honor to public life and our national dialogue.'
That word – lodestar – is a favorite of the vice president. But a senior White House official told DailyMail.com that suspicion is not focused on him or anyone in his office following a frank discussion among the VP's senior staff.
The official suspects 'lodestar' was purposely included in the op-ed to throw journalists off the scent.  
The term means 'a star that leads or guides' or 'serves as an inspiration, model, or guide.'
And it was trending on Twitter.   
Word by word the essay in the Times has been picked apart for clues of who wrote it with guessing ranging from administration figures like Defense Secretary James Mattis or Attorney General Jeff Sessions to more out-of-the-box contenders like first lady Melania Trump to funny memes on social media. 
Other than that there are few clues to the person's identity.
The Times called the author a 'senior official in the Trump administration,' which could describe hundreds of people - either aides in the West Wing or top-level staff in a Cabinet department.
One major clue may have been dropped by the Times itself in a tweet, which described the author as a 'he.'
President Trump is said to be on the hunt for the writer
Witch hunt: Social media jokers poked fun at Trump's furious hunt for the anonymous person who wrote the op-ed in the New York Times
A Times spokeswoman later told Business Insider that the pronoun was a mistake that shouldn't be read as a tip-off.
'Senior opinion editors know the identity of the official, as we pointed out in our editor's note,' Danielle Ha said in an email. 'The tweet was drafted by someone who is not aware of the author's identity, including the gender, so the use of 'he' was an error.'
It is hard to tell from the piece what level of access the official had to the president. Although it describes meetings with the president, it steers clear of offering specific information that could point to the level of the writer's security clearance.
The author also fudges their political allegiance, saying they were not part of a 'resistance of the left' and supported some of Trump's policies.  
The references to McCain and foreign policy have led to speculation it could be someone who works in the national security arena.  
Names mentioned include James Mattis, John Kelly, Jeff Sessions and Dan Coats.
Others made the seemingly implausible suggestion that the writer could have come from within the Trump family - pointing the finger at Ivanka or her husband Jared Kushner, and even Melania.  
Other random names have been suggested for the piece including first lady Melania Trump
And Ivanka Trump
Trump himself has called the writer 'gutless' and called on the newspaper to release the identity in the name of national security. 
'Does the so-called 'Senior Administration Official' really exist, or is it just the Failing New York Times with another phony source?' Trump tweeted hours after the newspaper published a brutal opinion essay that the newspaper said was written by one of his senior-level appointees.
'If the GUTLESS anonymous person does indeed exist, the Times must, for National Security purposes, turn him/her over to government at once!' 
He has already ordered loyal aides to identify the sources of Woodward's book, and this probe could well be extended to encompass the Times article, CNN reported. 
White House press secretary Sarah Huckabee Sanders called on the author to 'do the right thing and resign.'  
In an online introduction, the Times says the author's 'identity is known to us' and the person's 'job would be jeopardized by its disclosure. We believe publishing this essay anonymously is the only way to deliver an important perspective to our readers.'
The essay describes a 'quiet resistance' that by its nature has remained secret but isn't designed to bring Trump down – only to curb his worst impulses.
'Ours is not the popular 'resistance' of the left,' the author writes. 'We want the administration to succeed and think that many of its policies have already made America safer and more prosperous.'
'But we believe our first duty is to this country, and the president continues to act in a manner that is detrimental to the health of our republic.'
So rather than risk the invocation of the Constitution's 25th Amendment, the prescribed route for removing a president, he boasts that 'we will do what we can to steer the administration in the right direction until – one way or another – it's over.' 
Who wrote the New York Times' Trump 'resistance' op-ed?
Pence speaks on a mobile phone before attending the Republican policy luncheon in DC on September 5
Mike Pence - DENIES IT
Sleuths honed in on the word 'lodestar,' a favorite of the vice president. The op-ed's author described the late Sen. John McCain as 'a lodestar for restoring honor to public life and our national dialogue.'
Others suggested the word, which means the guiding star of a ship, could have been deliberately included to throw journalists off the scent.
This was the verdict of a senior White House official who spoke to Dailymail.com. He said suspicion is not focused on him or anyone in his office following a frank discussion among the VP's senior staff.
Pence has never criticized Trump in public. Writing the op-ed would almost certainly scuttle any future bid for high office. And his communications director has publicly denied it, saying Pence would always sign his own work.
Stephen Ford
If 'lodestar' was not an intentional red herring, others speculated, suspicion could fall on Pence's speechwriter.
But the VP's use of the word dates back to at least 2001. Ford, a youngish rising star in Washington's conservative circles, was in the third grade that year.
Mattis gestures during a press briefing at the Pentagon on May 19, 2017
James Mattis - DENIES IT
The Secretary of Defense, despite being a Trump favorite, has repeatedly sounded at odds with the commander-in-chief while discussing NATO, Russia and military strategy.
During one episode in Bob Woodward's recent book, 'Fear,' Trump questioned the ability of U.S. early warning systems in Alaska to identify a nuclear attack from North Korea.
Mattis is said to have schooled him. 'We're doing this in order to prevent World War III,' he reportedly said.
The Pentagon chief reportedly told colleagues after the incident that Trump had the mental ability of 'a fifth- or sixth-grader.'
Mattis has denied the account, saying in a statement: 'The contemptuous words about the President attributed to me in Woodward's book were never uttered by me or in my presence.'
A Pentagon spokesperson denied he wrote the Times piece. 'It was not his op-ed,' spokesperson Dana White said. 
Kelly at the White House on August 20
John Kelly
The White House chief of staff was also quoted in Woodward's book as having called Trump an 'idiot.'
'It's pointless to try to convince him of anything. He's gone off the rails,' he allegedly said.
'We're in Crazytown. I don't even know why any of us are here. This is the worst job I've ever had.'
Kelly denied making the claims, in a statement put out by the White House.
'The idea that I ever called the President is not true, in fact it's exactly the opposite,' he said. 'This is both a pathetic attempt to smear people close to President Trump and distract from his many successes.'
Sessions speaks about immigration and law enforcement at Lackawanna College on June 15, 2018
Jeff Sessions - DENIES IT
The attorney general has a motive to shiv his boss after Trump repeatedly chastized him in public for recusing himself from the Russia investigation.
And he has let loose on Sessions over charges the Department of Justice brought against two sitting Republican members of Congress, complaining the indictments handicapped the incumbents and jeopardized the GOP's ability to retain its majority in the House.
The president also compared Sessions unfavorably to the FBI director he fired, 'Lyin' James Comey,' saying they had become martyrs to the same lawmakers who despised them after resisting orders from the president.
Woodward writes that Sessions called Trump 'mentally retarded,' something that also met a stern denial.
A Justice Department spokesperson denies Session wrote the NYT op-ed. 
Coats addresses the Aspen Security Forum in Colorado on July 19
Dan Coats - DENIES IT
The director of national intelligence has also veered from Trump loyal line.
Told of the president's plan to invite Vladimir Putin to the White House, Coats enraged the president by snarking: 'That is going to be special.'
He later 'clarified' his comments, made during an interview at the Aspen Institute security forum in Colorado, by saying his response 'was in no way meant to be disrespectful or criticize the actions of the president.'
Trump drew heavy criticism from both Republicans and Democrats over his summit with Putin in Helsinki, Finland, where he seemed reluctant to blame Russia for meddling in the 2016 U.S. presidential election.
Coats put out a statement denying either he or his deputy wrote the piece. 
McGahn is interviewed at a conference in Gaylord, Maryland, on February 22
Don McGahn 
The White House counsel is planning to leave the White House in the fall, so he may not fear the consequences of exposure as a secret anti-Trumper.
He has also clashed with the president in the past.
This includes declining an order to fire Robert Mueller, who is overseeing the Russia investigation that Trump describes as a 'witch hunt.' 
McGahn risked the president's anger by spending 30 hours in interviews with Mueller's team, over three separate occasions.
Melania and Ivanka watch on ahead of the first debate between Donald Trump and Hillary Clinton in Hempstead, New York
Melania or Ivanka?
The first lady is an unlikely candidate for authorship of the Times essay.
Twitter commenters noted she had already been accused of telegraphing coded messages publicly hinting at opposition to her husband's policies.
This included wearing a jacket saying 'I really don't care, do u?' when visiting shelters for illegal immigrant children.
Ivanka Trump has previously said she would work to ensure her voice is heard via her father's policies but has seemingly failed to do so – particularly in the case of family separations at the U.S.-Mexico border, which she 'vehemently' opposed.
Her husband Jared is a senior adviser and also could be involved, but it's a long shot that anyone in Trump's family would sell him out.
++++++++++++++++++++++++++++++++++++++++++++++++++++++++++++++++++++++++++++++++++++++++++
Michael Cohen Pleads Guilty, Says Trump Told Him to Pay Off Women
Document seen by CNN claims former Trump Tower doorman signed agreement with National Enquirer
Full details are not included but Dino Sajudin later claimed to know of relationship between Donald Trump and a housekeeper which resulted in child
No outlets have managed to independently confirm Trump illegitimately fathered a child
'Catch and kill' contract has been terminated and Sajudin has released details  
Sajudin was a doorman at Trump World Tower until after the 2016 election 
National Enquirer paid $30,000 but never published a story, and he was subject to a $1 million penalty if he shared the story with anyone else
Dino Sajudin, the former Trump doorman who claimed the president had a love child, has released his contract with AMI who offered to buy the story
The White House has previously declined to comment on Sajudin's claims when approached by CNN
'Just recently, AMI released Mr. Sajudin from the terms of his agreement and he is now able to speak about his personal experience with them, as well as his story, which is now known to be one of the 'catch and kill' pieces. 
'Mr Sajudin hopes the truth will come out in the very near future.' 
Sajudin, 46, was a doorman at a Trump property in Manhattan until after the 2016 election. 
He first came forward with the claims about Trump's affair in April this year.
CNN said it understood that he was released from the contract in December 2016, after Trump had beaten Hillary Clinton.
The Associated Press and the New Yorker said that Sajudin got $30,000 in exchange for signing over the rights, 'in perpetuity,' to the claim that the president had fathered an illegitimate child with an employee at Trump World Tower, a skyscraper he owns near the United Nations.
He said that he had been instructed not to criticize Trump's former housekeeper due to the 'prior relationship she had with President Trump which produced a child.'
The woman has not been named but spoke to the Associated Press to deny having any relationship with Trump.  
He said he was acting as a Trump spokesman when he did so and denied knowing anything beforehand about the Enquirer payment to the ex-doorman. 
As it did with former Playmate Karen McDougal, the Enquirer signed the ex-doorman to a contract that effectively prevented him from going public with a juicy tale that might hurt Trump's campaign for president.
The parallel between the ex-Playmate's and the ex-doorman's dealings with the Enquirer raises new questions about the roles that the Enquirer and Cohen may have played in protecting Trump's image during a hard-fought presidential election. 
Cohen has admitted he broke the law when he made payments to McDougal and pornstar Stormy Daniels. 
And his guilty plea has implicated President Trump, who he says asked him to do it. 
American Media CEO David Pecker granted immunity in Cohen probe
Sajudin got $30,000 in exchange for signing over the rights, 'in perpetuity,' to a rumor he'd heard about Trump's sex life — that the president had fathered an illegitimate child with an employee at Trump World Tower, a skyscraper he owns near the United Nations
FBI raids Trump's attorney Michael Cohen's office and hotel
During AP's reporting earlier this year, AMI threatened legal action over reporters' efforts to interview current and former employees and hired the New York law firm Boies Schiller Flexner, which challenged the accuracy of the AP's reporting.
Asked about the payment last summer, Dylan Howard, the Enquirer's top editor and an AMI executive, said he made the payment to secure the former Trump doorman's exclusive cooperation because the tip, if true, would have sold 'hundreds of thousands' of magazines. 
Ultimately, he said the information 'lacked any credibility,' so he spiked the story on those merits.
'Unfortunately... Dino Sajudin is one fish that swam away,' Howard told RadarOnline on Wednesday.
But four longtime Enquirer staffers directly familiar with the episode challenged Howard's version of events. 
They said they were ordered by top editors to stop pursuing the story before completing potentially promising reporting threads.
Trump on FBI raiding Michael Cohen: It's a total witch hunt
They said the publication didn't pursue standard Enquirer reporting practices, such as exhaustive stake-outs or tabloid tactics designed to prove paternity. 
In 2008, the Enquirer helped bring down presidential hopeful John Edwards in part by digging through a dumpster and retrieving material to do a DNA test that indicated he had fathered a child with a mistress, according to a former staffer.
The woman at the center of the rumor about Trump denied emphatically to the AP last August that she'd ever had an affair with Trump, saying she had no idea the Enquirer had paid Sajudin and pursued his tip.
The AP has not been able to determine if the rumor is true and is not naming the woman.
'This is all fake,' she said. 'I think they lost their money.'
The Enquirer staffers, all with years of experience negotiating source contracts, said the abrupt end to reporting combined with a binding, seven-figure penalty to stop the tipster from talking to anyone led them to conclude that this was a so-called 'catch and kill' — a tabloid practice in which a publication pays for a story to never run, either as a favor to the celebrity subject of the tip or as leverage over that person.
One former Enquirer reporter, who was not involved in the Sajudin reporting effort, expressed skepticism that the company would pay for the tip and not publish.
'AMI doesn't go around cutting checks for $30,000 and then not using the information,' said Jerry George, a reporter and senior editor for nearly three decades at AMI before his layoff in 2013.
Cohen has admitted he broke the law when he made payments to McDougal and pornstar Stormy Daniels (pictured) 
The company said that AMI's publisher, David Pecker, an unabashed Trump supporter, had not coordinated its coverage with Trump associates or taken direction from Trump. 
It acknowledged discussing the former doorman's tip with Trump's representatives, which it described as 'standard operating procedure in stories of this nature.'
The Enquirer staffers, like many of the dozens of other current and former AMI employees interviewed by the AP in the past year, spoke on condition of anonymity.
All said AMI required them to sign nondisclosure agreements barring them from discussing internal editorial policy and decision-making.
Though sometimes dismissed by mainstream publications, the Enquirer's history of breaking legitimate scoops about politicians' personal lives — including its months-long Pulitzer Prize-contending coverage of presidential candidate Edwards' affair — is a point of pride in its newsroom.
During the 2016 presidential campaign, the Enquirer published a string of allegations against Trump's rivals, such as stories claiming Democratic rival Hillary Clinton was a bisexual 'secret sex freak' and was kept alive only by a 'narcotics cocktail.'
Stories attacking Trump rivals or promoting Trump's campaign often bypassed the paper's normal fact-checking process, according to two people familiar with campaign-era copy.
The company has said it paid McDougal, the former Playboy Playmate, to be a columnist for an AMI-published fitness magazine, not to stay silent. McDougal has since said that she regrets signing the non-disclosure agreement and is currently suing to get out of it
The tabloid made its first-ever endorsement by officially backing Trump for the White House. With just over a week before Election Day, Howard, the top editor, appeared on Alex Jones' InfoWars program by phone, telling listeners that the choice at the ballot box was between 'the Clinton crime family' or someone who will 'break down the borders of the establishment.' 
Howard said the paper's coverage was bipartisan, citing negative stories it published about Ben Carson during the Republican presidential primaries.
In a statement last summer, Howard said the company doesn't take editorial direction 'from anyone outside AMI,' and said Trump has never been an Enquirer source. 
The company has said reader surveys dictate its coverage and that many of its customers are Trump supporters.
The company has said it paid McDougal, the former Playboy Playmate, to be a columnist for an AMI-published fitness magazine, not to stay silent. McDougal has since said that she regrets signing the non-disclosure agreement and is currently suing to get out of it.
Pecker has denied burying negative stories about Trump, but acknowledged to the New Yorker last summer that McDougal's contract had effectively silenced her.
'Once she's part of the company, then on the outside she can't be bashing Trump and American Media,' Pecker said.
In the tabloid world purchasing information is not uncommon, and the Enquirer routinely pays sources. 
As a general practice, however, sources agree to be paid for their tips only upon publication.
George, the longtime former reporter and editor, said the $1 million penalty in Sajudin's agreement was larger than anything he had seen in his Enquirer career.
'If your intent is to get a story from the source, there's no upside to paying upfront,' said George, who sometimes handled catch-and-kill contracts related to other celebrities. 
Paying upfront was not the Enquirer's usual practice because it would have been costly and endangered the source's incentive to cooperate, he said.
After initially calling the Enquirer's tip line, Sajudin signed a boilerplate contract with the Enquirer, agreeing to be an anonymous source and be paid upon publication. 
The Enquirer dispatched reporters to pursue the story both in New York and in California. 
The tabloid also sent a polygraph expert to administer a lie detection test to Sajudin in a hotel near his Pennsylvania home.
Sajudin passed the polygraph, which tested how he learned of the rumor. One week later, Sajudin signed an amended agreement, this one paying him $30,000 immediately and subjecting him to the $1 million penalty if he shopped around his information.
The Enquirer immediately then stopped reporting, said the former staffers.
Cohen, last year, characterized the Enquirer's payment to Sajudin as wasted money for a baseless story.
For his part, Sajudin confirmed he'd been paid to be the tabloid's anonymous source but insisted he would sue the Enquirer if his name appeared in print. 
Pressed for more details about his tip and experience with the paper, Sajudin said he would talk only for in exchange for payment.
'If there's no money involved with it,' he said, 'I'm not getting involved.'
++++++++++++++++++++++++++++++++++++++++++++++++++++++++++++++++++++++++++++++++++++++++++
Michael Cohen claims Trump 'knew of Russian lawyer meeting'
"Michael Cohen, former personal lawyer to President Trump, leaving court after pleading guilty on Tuesday." title="Michael Cohen, former personal lawyer to President Trump, leaving court after pleading guilty on Tuesday."
Mr. Cohen, who has described himself as Mr. Trump's "fixer," said he made both payments "for the purpose of influencing the election" and acted at the direction of "the candidate," referring to Mr. Trump. That was the first time Mr. Cohen has admitted to coordinating with the president on the hush-money deals with women, both of which were first reported by The Wall Street Journal.
The surprising admission by Mr. Cohen directly implicated Mr. Trump in a federal crime, escalating pressure on the president. Three other Trump associates have been charged with felonies and a fourth was convicted by a jury on Tuesday.
Mr. Trump and his representatives previously denied that he knew about the payments at the time they were made.
Mr. Cohen "worked to pay money to silence two women who he believed would be detrimental to" Mr. Trump and his campaign, said Robert Khuzami, the deputy U.S. attorney in Manhattan, at a news conference. "For that, he is going to pay a very, very serious price."
Mr. Cohen, 51 years old, pleaded guilty to a total of eight criminal counts: two counts of illegal campaign contributions related to payments to women; five counts of evading personal income taxes from 2012 to 2016; and one count of making false statements to a financial institution.
The plea agreement doesn't require Mr. Cohen to cooperate with prosecutors, according to people familiar with the deal. That doesn't preclude him from providing information later on to the government, including to special counsel Robert Mueller's investigation into whether Mr. Trump's associates colluded with Russia in the 2016 campaign.
Under the plea deal, Mr. Cohen and the government agreed to a sentence of between about 4 years and 5 years in prison, with a fine of $20,000 to $1 million. Mr. Cohen was released on $500,000 bond.
Charging documents filed Tuesday revealed new details about the payments to the women, including disputes with the National Enquirer's publisher over how to pay Ms. McDougal and a sham invoice Mr. Cohen filed with the Trump Organization to receive reimbursement for paying Ms. Clifford.
++++++++++++++++++++++++++++++++++++++++++++++++++++++++++++++++++++++++++++++++++++++++++
Trump was recorded talking of paying Playboy model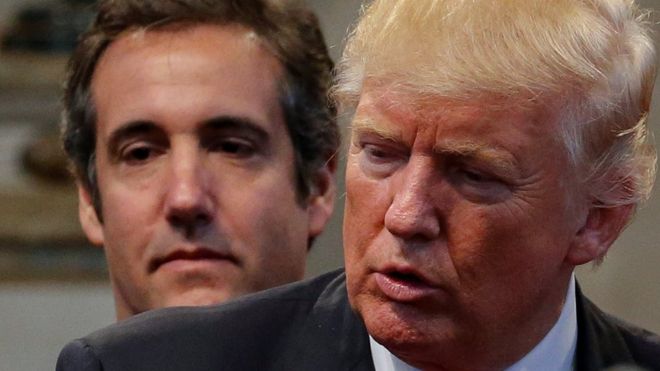 Michael Cohen has claimed he was in the room when Mr Trump was told about the meeting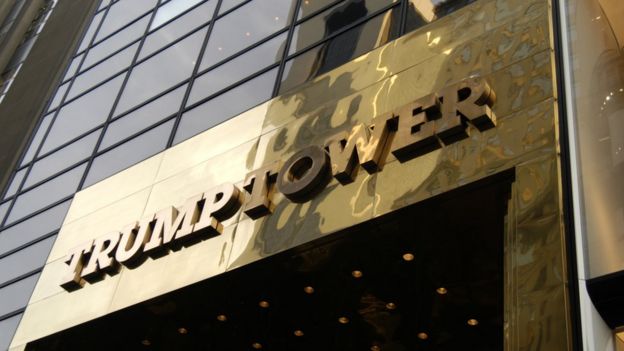 Image captionThe meeting in New York is a part of an investigation into alleged Russia meddling in 2016
According to CNN and NBC, Mr Cohen does not have any audio recordings to support his account but is willing to assert it as part of the ongoing investigations into Russian election interference.
From friend to foe
By Jon Sopel, North America Editor, BBC News
Michael Cohen is turning into a dangerous adversary for the US president.
Donald Trump Jr and the president's son-in-law, Jared Kushner, have both testified - one to Congress, the other to the special counsel - that the president knew nothing about the meeting until details of it emerged a year later.
What's unclear is whether Michael Cohen has anything to corroborate his claim. That's led President Trump's new lawyer Rudy Giuliani to launch a scathing attack on Mr Cohen's character, describing him as a "pathological liar".
Until very recently Michael Cohen had said he would take a bullet for the president. He now seems to be pointing a gun at Mr Trump's head.
In response to the allegation, Mr Trump's lawyer Rudy Giuliani told NBC that Mr Cohen "is not credible".
"It's not true," he said. "Why would you expect it would be true from someone like Cohen? A lawyer who would tape their own client is a lawyer without any character."
His comments refer to reports that Mr Cohen secretly recorded the president discussing payments to a former Playboy model.
++++++++++++++++++++++++++++++++++++++++++++++++++++++++++++++++++++++++++++++++++++++++++
Stormy Daniels Lawyer & Michael Cohen's Lawyer Argue Live on TV
President Donald Trump's former personal lawyer secretly recorded Trump discussing payments to a former Playboy model who said she had an affair with him, The New York Times reported Friday.
The president's current personal lawyer confirmed the conversation and said it showed Trump did nothing wrong, according to theTimes.
Citing lawyers and others familiar with the recording, The Times said attorney Michael Cohen made the recording two months before Trump's 2016 election. The newspaper said the FBI seized the recording during an April raid on Cohen's office amid an investigation into his business dealings.
People familiar with the investigation have told The Associated Press that the raid sought, among other things, any information on payments made in 2016 to former Playboy model Karen McDougal, who says she had an affair with Trump in 2006. He denies it.
The Wall Street Journal revealed, days before the election, that the National Enquirer — run by Trump supporter David Pecker — had paid $150,000 to silence McDougal. At the time, Trump campaign spokeswoman Hope Hicks said, "We have no knowledge of any of this."
Trump lawyer Rudy Giuliani told the Times the Republican president did discuss the payments to McDougal with Cohen on the less than two-minute-long recording, but that the payment was never made.
Giuliani says Trump told Cohen that if he did make a payment, to do it by check so it could be documented.
"Nothing in that conversation suggests that he had any knowledge of it in advance," Giuliani told the newspaper. "In the big scheme of things, it's powerful exculpatory evidence."
Giuliani and Cohen haven't immediately responded to messages from The Associated Press. Cohen lawyer Lanny Davis declined to comment to the Times.
McDougal's lawyer, Peter Stris, did not immediately respond to a message.
Cohen, a self-described fixer for Trump for more than a decade, said last year that he "would take a bullet" for Trump. But Cohen told an interviewer earlier this month that he now puts "family and country first" and won't let anyone paint him as "a villain of this story."
++++++++++++++++++++++++++++++++++++++++++++++++++++++++++++++++++++++++++++++++++++++++++