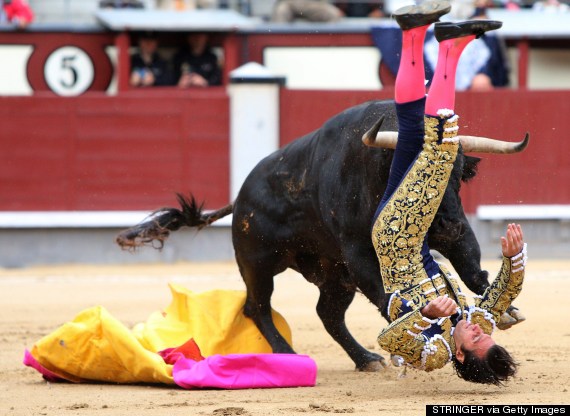 Three matadors were gruesomely injured by bulls and taken away by ambulances during a major bullfight in Madrid on May 20. As a result of the incidents, the San Isidro festival was suspended for the first time in 35 years, reports the BBC.
The most seriously injured was veteran matador David Mora, who opened the festival with a bull weighing more than 1,100 pounds. As Mora waved his cape in the bull's direction, the animal swiftly flipped him into the air, then thrust a horn through his leg. A medical report obtained by the Agence France-Presse said Mora suffered a nearly footlong gash to the thigh and a puncture wound to the armpit. He was reported to be in serious but stable condition and received a blood transfusion.
(Story continues below.)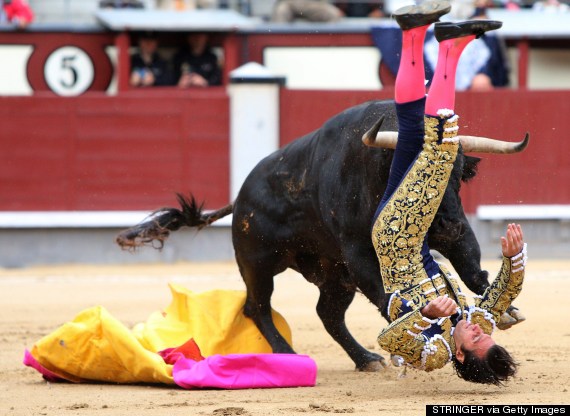 Spanish matador David Mora is gored by a bull during a bullfight of the San Isidro Feria at the Las Ventas bullring in Madrid on May 20, 2014. (Image credit: Stringer/AFP/Getty Images)
Antonio Lorca, a bullfighting correspondent for Spanish-language newspaper El País, called Mora's defeat by the bull "horrific, shocking, chilling."
The second matador, Antonio Nazare, then entered the arena and killed the animal with a sword. The next bull that squared off with Nazare flung him to the ground and dragged him along, injuring Nazare's knee.
A third matador, Saul Jimenez Fortes, then entered the ring to finish off the animal. The bull charged Fortes, puncturing his right leg and the pelvis, per the BBC.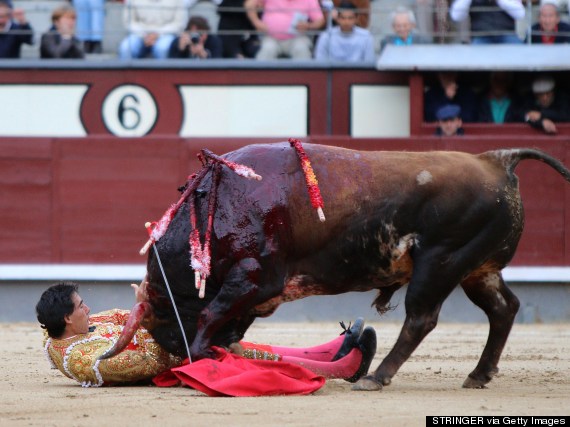 Spanish matador Jimenez Fortes is gored by a bull during a bullfight.
However, some wondered whether it was fair to cancel the festival.
Nate Scott wrote in USA Today: "Very sad, very shocking. But here is my question: If it is a bullfight, i.e. a fight with a bull, why do they cancel the fight when the bull starts winning?" Scott posited. "Granted I've never been to a bullfight, but from what I understand, the bulls don't get to cancel the event when they get gored. These men chose to fight these animals, and it doesn't seem sporting to take their proverbial ball and go home when the other team starts beating up on them. Or goring them, in this case."
All three matadors are reportedly recovering well from their injures.
WARNING: Footage of the incidents from the festival is graphic.