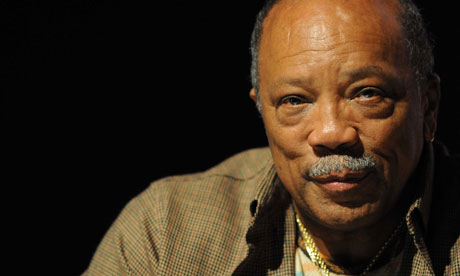 Vegas casino billionaire Steve Wynn has reportedly called in music mogul Quincy Jones to testify for him

Ropes in Grammy winner to bitter legal dispute between Wynn and Girls Gone Wild founder Joe Francis

Francis alleges that Wynn plotted to kill him and bury him in the desert
Legendary music mogul Quincy Jones has been roped into a nasty alleged murder plot between a Las Vegas tycoon and the creator of Girls Gone Wild, court papers allege. 
Mr Jones, who is the most nominated Grammy artist of all time, has been called to testify in the case between Joe Francis, the creator of the adult entertainment video empire, and Steve Wynn, who among other things, owns the hotel where Prince Harry was notoriously caught partying last weekend.
Court documents allege that Wynn threatened to kill Francis and hide his remains in the desert, and that Mr Jones may have seen an email detailing the alleged plot.
Roped in: Legendary music stalwart Quincy Jones has reportedly been called as a witness in a bitter legal battle between a Vegas casino owner and an adult entertainment millionaire
Legal battle: Wynn Casino owner Steve Wynn, left, is embroiled in a legal battle with Girls Gone Wild founder Joe Francis, who recently had to pay the billionaire $7.5million in punitive damages
The email allegedly plotted to have Francis killed and buried in the desert over money he supposedly owes the casino, TMZ exclusively reported.
However, Wynn, 70, insists that no such email exists. Mr Jones will testify next week as to what he saw, the celebrity gossip website reported.
The court documents state Mr Jones will be a witness for the Las Vegas mogul, who is worth an estimated $2.5billion, according to Forbes.
In February, TMZ reported that a judge ordered Francis to pay Wynn $7.5million over a defamation lawsuit in which Francis publically accused Wynn and his many casinos of being deceptive to guests.
In the complaint, Wynn alleged that Francis uttered slanderous words about his business.
Sin City: Wynn owns the now-infamous Wynn Hotel, where Prince Harry spent a highly-publicised weekend partying
The judge in the case said that Francis' actions damaged Wynn's reputation and made him pay $5million, adding a further $2.5million in punitive damages.
Francis, who has an estimated $150million net worth, has had many brush-ins with the law in the past, many of them tied up in his Girls Gone Wild Empire.
Included in the complaints were not getting consent of the girls he filmed flashing their breasts, exploitation of minors, and keeping incomplete records.
According to Forbes, the young millionaire has also been indicted for tax evasion, and has been convicted of child abuse and prostitution.
The father of actress and comedian Rashida Jones, Mr Jones has 26 Grammy awards and 76 nominations.
He is expected to testify at the trial this week.