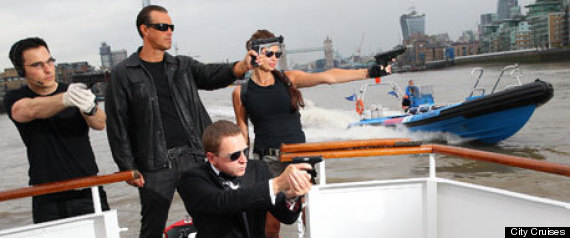 When the British Metropolitan Police's Marine Policing Unit intercepted a military-grade boat reportedly filled with armed criminals, they were prepared for the worst. Their discovery, however, wasn't the stuff of great crime heist.
What began as an innocent photo-op featuring Tom Cruise, Angelina Jolie, Arnold Schwarzenegger and Daniel Craig celebrity impersonators, quickly became a bonafide police chase, according to the London Evening Standard.
City Cruises was promoting its Thamesjet speedboat ride, which promises "high speed aquabatics and live commentary" on a boat "built to the same specification as those used by the military and police," the report notes. But as the vessel approached Westminster Pier, a concerned citizen alerted the authorities. That's because the doppelgängers, dressed in black, were wielding toy guns that apparently didn't look so fake from far away.
However, once the police saw the celebrity impersonators and their harmless guns, they quickly realized all was well on the Thames River.
"The actors and the event organizers were given words of advice and the incident was resolved amicably," a Scotland Yard spokeswoman told The Guardian.
No arrests were made.
It can be hard to tell the difference between a well-acted crime heist and a real-life threat, so it's not uncommon for authorities to err on the side of caution. Case in point: Earlier this month, near the movie-hub of Los Angeles, police mistook a movie set robbery for a real shooting after receiving a 911 call.
"[It's rare] to go into a coffee shop and see someone carrying an AR-15 rifle and wearing a mask," Capt. Tim Staab told the Associated Press about taking the situation seriously.