He said that stance was ludicrous. "It seems evident to me that black males are being deliberately murdered throughout America as a closing message to Obama, telling him that his presidency has meant nothing and that the division of colour is now bigger than ever."
Morrissey wondered if Obama was "white inside" while speaking to Larry King last week, and expanded on his theme with The Daily Beast, asking if Obama would feel any urge to leniency if one of his daughters were shot dead by a police officer. "I don't imagine he'd be willing to accept the exoneration of that white cop," he said.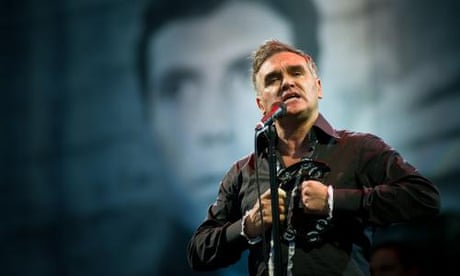 In a rare in-depth interview, former Smiths frontman criticises US president over reaction to Ferguson civil unrest, saying he believes he is 'white inside'
He said the police – "the Ku Klux Klan to most black Americans" – deliberately targeted the poor and marginalised "because the poor have no influential friends and therefore can't retaliate, and the cops know that they can play about with poor people".
In his final observation on Obama, Morrissey said: "He doesn't look overly African black. He's as close to soft, whiteness as someone who isn't white could get, and I often wonder if he would have been elected if he had a stronger, more African black face? It's a point."
He also spoke about the 2016 presidential race, saying he found the Republican candidates "dangerously reactionary and occasionally insane", whereas he backed Hillary Clinton. "I don't think Clinton has even begun to dig into the race yet, and when she does she will gain massive support," he said.