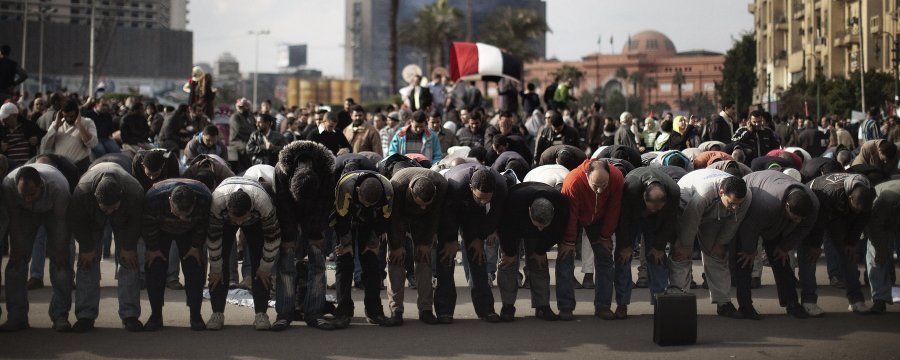 Egyptian President Hosni Mubarak named a vice president Saturday for the first time since coming to power nearly 30 years ago - a clear step toward setting up a successor in the midst of the biggest anti-government protests of his regime.

After five days of protests, Cairo was engulfed in chaos. There was rampant looting and lawlessness was spreading fast. Residents of affluent neighborhoods were boarding up their houses against gangs of thugs roaming the streets with knives and sticks and gunfire was heard in some neighborhoods.

Tanks and armored personnel carriers fanned out across the city of 18 million, guarding key government buildings. Egyptian television reported the army was deploying reinforcements to neighborhoods to try to control the lawlessness.

The military was protecting major tourist and archaeological sites such as the Egyptian Museum, home to some of the country's most treasured antiquities, as well as the Cabinet building. The military closed the pyramids on the outskirts of Cairo - Egypt's premiere tourist site.

On Friday, protesters burned down the headquarters of Mubarak's ruling party along the Nile and set fire to other buildings, roaming the streets of downtown Cairo in defiance of a night curfew enforced by the first army deployment.

Thousands of protesters defied the curfew for the second night Saturday, standing their ground in the main Tahrir Square

in a resounding rejection of Mubarak's attempt to hang onto power with promises of reform and a new government.

"What we want is for Mubarak to leave, not just his government," Mohammed Mahmoud, a demonstrator in the city's main Tahrir Square, said Saturday. "We will not stop protesting until he goes."

A few tanks were deployed in Tahrir Square. But there have been no clashes reported between protesters and the military at all and many feel the army is with them. On one tank was scrawled black graffiti: "Down with Mubarak."

In contrast, protesters have attacked police, who are hated for their brutality. On Friday, 17 police stations throughout Cairo were torched, with protesters stealing firearms and ammunition and setting some jailed suspects free. They also burned dozens of police trucks in Cairo, Alexandria and Suez.

On Saturday, protesters besieged a police station in the Giza neighborhood of Cairo, looted and pulled down Egyptian flags before burning the building to the ground.

One army captain joined the demonstrators in Tahrir, who hoisted him on their shoulders while chanting slogans against Mubarak. The officer ripped a picture of the president.
"We don't want him! We will go after him!" demonstrators shouted. They decried looting and sabotage, saying: "Those who love Egypt should not sabotage Egypt!"
Violence erupted when thousands of protesters tried to storm the Interior Ministry and police opened fire. At least three protesters were killed and their bodies were carried through the crowd.
The death toll for five days of protests has risen sharply since Friday to at least 62 with about 2,000 injured on both sides, according to security officials.
The protesters are unified in one overarching demand - Mubarak and his family must go. The movement is a culmination of years of simmering frustration over a government they see as corrupt, heavy-handed and neglectful of grinding poverty.
Mubarak sacked his Cabinet Saturday and promised reforms to try to quell the protests, but it did not satisfy the demonstrators who were out in force again to demand a complete change of regime.
Mubarak named his intelligence chief of nearly two decades and close confidant Omar Suleiman, state television reported.
The president had been seen as grooming his son Gamal to succeed him, possibly even as soon as in presidential elections planned for later this year. However, there was significant public opposition to the hereditary succession.
------------------------------------------------------------------------------------------------------------------
Egypt copied Iranian tactics of two years ago and used brutal force by police and prisoners against anti-government protesters Saturday, killed up to 108. The army is standing by but has not taken part in stamping out opposition rallies.
Meanwhile, Israel was the first country to evacuate diplomats and their families. Philippine is preparing to evacuate 6,500 Filipinos working and studying in Egypt in case the situation grows worse.
The Foreign Ministry said it brought in special flights to carry diplomatic families and 40 other Israelis visiting and who wanted to leave Egypt. The Israeli government so far has stayed quiet in the growing crisis, but Jerusalem unofficially has expressed concern that a long period of instability might replace Egyptian President Hosni Mubarak, if he is forced to resign.
The Palestinian Authority has expressed solidarity with Mubarak, who has ruled Egypt with an iron hand for 30 years.
 U.S. President Barack Obama stated, "The people of Egypt have rights that are universal" and added, "Suppressing ideas never succeeds in making them go away." He spoke with Mubarak for 30 minutes on Friday. 
Protesters have followed the lead of Tunisia two weeks ago who bought about the end of the rule of Zine El Abidine Ben Ali. Egypt has responded with club-wielding and riot police, who also are using live fire. The death toll in the protests has ranged from 75 to 108, and at least eight were killed by gunshots near a Cairo jail after several police stations and government buildings were set on fire.
Although the Egyptian government has said it is operating with "zero tolerance as is acting like Iran in the 2009 street protests in, "the barrier of fear has collapsed, according to one Middle East expert.
"Obviously the [Mubarak] regime has decided to crack down very hard on the protesters, but the protesters and the popular uprising [are] much more deeply entrenched," Fawaz Gerges, director of the Middle East Centre at the London School of Economics, told Al Jazeera. "The most important point … is that the barrier of fear has collapsed, has fallen. Egyptians now are no longer terrified of the security apparatus as they used to be," he said.
Egyptian forces Friday took into custody Nobel Prize winner Mohamed ElBaradei, the former chief of the United Nation's nuclear watchdog agency who is the most prominent and anti-government figure. He was placed under house arrest.
Relative quiet has returned to the streets as Egypt continues to keep social Internet networks and cellular phones shut down, although partial service was restored Saturday afternoon.
---------------------------------------------------------------------------------------------------------------------------------------------------------------------------
Interview: Two Israelis on Joining the Protests in Egypt
As pro-democracy protests erupt across Egypt and threaten to end the 30-year rule of President Hosni Mubarak, two Israeli women are following the news with particularly personal zeal: After all, they participated in this week's demonstrations against the autocrat.
Hagar Sheizaf and Bar Rose were touring Egypt on their way to "see some mummies" at the Egyptian Museum when the first protests broke out. As they joined the ever-growing crowd—and later fled in terror from rubber bullets and water cannons— they felt "envy" for the courage, diversity, and unity they witnessed.
"For me, it was one of the scariest moments of my life," Sheizaf, 20, said in a phone interview from Israel, where she and Rose returned on Thursday. "But I felt very, very proud—if I may feel proud for the Egyptian people….It's so courageous to stand up like this. I can only hope that, in Israel, people will do the same one day." (Sheizaf and Rose are pro-Palestinian human rights activists.)
Israel signed a peace treaty with Egypt in 1979, and President Hosni Mubarak has collaborated closely with Israel and the United States on security issues. However, sympathy for the Palestinians, and rage at Israel's 43-year occupation of the Palestinian territories, runs deep in Egypt. The Israeli Ministry of Foreign Affairs issues frequent travel warnings that militant Islamists seek to kidnap Israeli tourists in the Sinai peninsula.
Many Israelis would consequently think Sheizaf and Rose were reckless to go to Egypt in the first place—and especially to share their Israeli nationality with the demonstrators. Yet Sheizaf and Rose dismiss these fears. Rose says, "We just said to people, 'Ok, so we are Israelis. We are from the people and our government is not representing our personal opinions.'"
One conversation about Israeli politics with three Egyptian medical students left a particularly strong impression on Sheizaf. The medical students earned about 300 Egyptian pounds per month ($51), and came to the demonstrations to protest the economic crisis and Mubarak's repressive government. When the students asked about democracy in Israel, Sheizaf told them about the Israeli parliament's decision to investigate the funding sources of Israeli human rights organizations—to which one of the students replied, "'Ah, Lieberman's law!'" (Avigdor Lieberman, the Israeli foreign minister, is the main backer of the legislation.)
"I was really surprised that they actually know and read about the situation in Israel, and that they know the names of our politicians," Sheizaf recalls. "My experience of telling people I'm from Israel was very positive…I told lots of people I'm Israeli. I didn't get one negative response."
Since returning to Israel, Sheizaf and Rose have fretted about the safety of their Egyptian friends, co-authored a 972 Magazine article about their experiences in Egypt, and fielded skeptical questions from the Israeli media. A journalist from Israeli Army Radio opened her interview with Rose by stating matter-of-factly that it's hard to be an Israeli in Egypt.
"I just answered her that it's hard to be a human being in these demonstrations, regardless of your nationality," Rose says. "I felt real solidarity with the Egyptian people, and [the Israeli Army radio reporter] described it like I should be scared of them."
She wasn't.