Rumor Control: Lauren London Shutting Down Rumors She's Seeing Diddy 'Stop F****g Playing With Me'
*Sean "Diddy" Combs was in San Francisco for an appearance but ended up getting sidelined for surgery on his left quadricep. It's his 4th surgery in two years to repair a tear, according to People.
Speaking of that now canceled appearance, via his Instagram story, Diddy also apologized to fans in the Bay Area The mogul/entertainer explained the last minute nature of his procedure.
"I just found out yesterday, they squeezed me in for today. Pray for ya boy, I'm gonna see you all next time and make it up y'all," he said.
Diddy also admitted he is accident-prone, which helped explain why he so often found himself needing surgery or other forms of treatment, especially in recent years.
"I'm clumsy. I trip. I fall. I fall in holes. It's always been like that. This is my fourth surgery in two years. I've had two rotator cuffs, a knee replacement, and now it's on quad," he said in the video.
In a moment of reflection, Combs said that he thought what's happening to him was all part of God's plan to get him to slow down and focus on his health. He said he had to stop treating his body "like a machine." He continued by noting that he'd had 10 surgeries over the course of his life, including a total of four rotator cuff surgeries, a partial knee replacement, as well as operations on his bicep, toe, and wrist.
Sheesh!
Combs is promising his fans this would be his last surgery. He also extended his thoughts and prayers to others who were clumsy or accident-prone. In the video, he also expressed gratitude for all the fans who had extended support or sympathy to him and said that ultimately, he had done this to himself.
++++++++++++++++++++++++++++++++++++++++++++++++++++++++++++++++++++++++++++++++++++++++++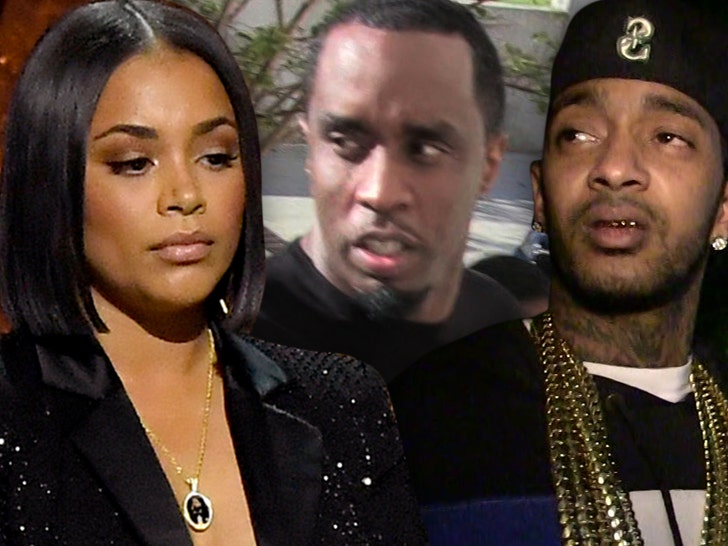 Lauren London's making it perfectly clear she's NOT dating Diddy or anyone else for that matter ... 'cause it'll be her and Nipsey Hussle 'til the end of time.
Lauren took to Instagram Thursday and posted a picture of the late rapper and captioned it "Still His! King Ermias! Never Forget!" And, for those who didn't get the message the first time she took it a step further and said, "Stop f***ing playing with me and my name. Now let me get back to healing."
The actress felt compelled to quash rumors she and Diddy are dating after Diddy reportedly posted -- and then deleted -- a couple of black and white pics of him and Lauren.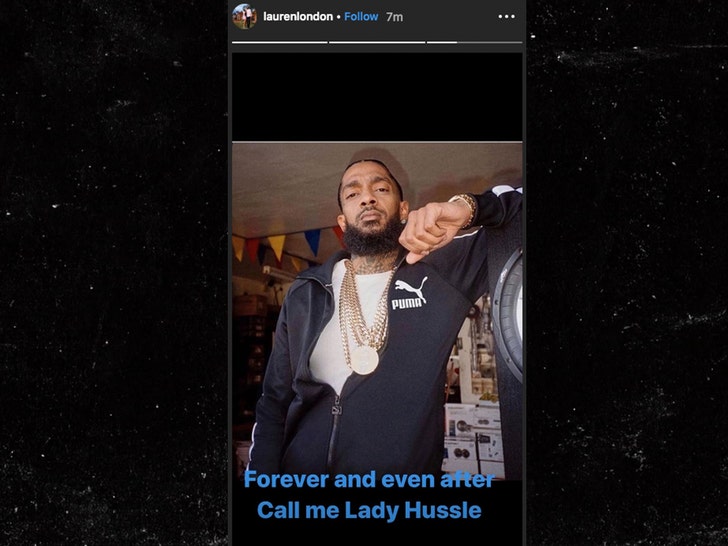 Diddy initially captioned the Instagram pics "#lostfiles ... @laurenlondon." The pics, BTW, were taken at Jay-Z's Roc Nation Pre-Grammy brunch last month. Reports started to surface not long after speculating Diddy and Lauren were a thing. But, Lauren's not about to have it.
She also posted on her Instagram Story to make it crystal clear ... it's her and Nipsey forever.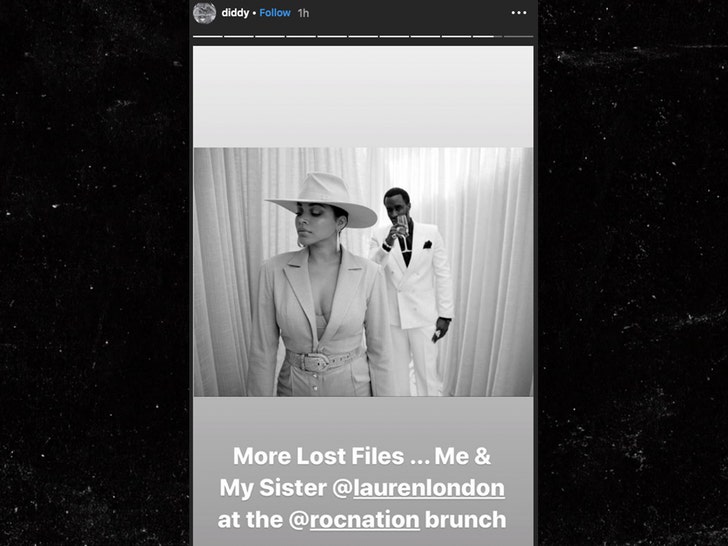 For the record, Diddy eventually re-posted his pic with Lauren on his Instagram Story and captioned it "More Lost Files ... Me & My Sister @laurenlondon at the @rocnation brunch."
Enough said.