Hundreds of Jamaican prisoners will be repatriated to their homeland to serve their sentences in a new jail to be built with £25m of UK foreign aid money, David Cameron will say.
On his first official trip to the Caribbean island, the prime minister will announce on Wednesday a deal with Jamaica to transfer prisoners to their country of citizenship without the need for their consent.
Under the terms of the agreement, Jamaican prisoners who have received sentences of four years or more, and who have more than 18 months left to serve, will be deported from 2020.
It is expected this will apply to about 300 people at that date, when a new 1,500-bed prison in Jamaica has been built from development cash.
The prisoner transfer agreement adds to deals that have been struck with Albania, Nigeria, Somaliland, Rwanda and Libya. However, the government considers an agreement with Jamaica particularly important because its citizens make up the third-largest prison population of foreign nationals.
There were more than 600 Jamaican citizens in UK jails as of June this year, with seven in 10 serving sentences related to drugs or violence.
Claiming the deal would save money in the long run, Cameron said: "It is absolutely right that foreign criminals who break our laws are properly punished but this shouldn't be at the expense of the hardworking British taxpayer.
"That's why this agreement is so important. It will mean Jamaican criminals are sent back home to serve their sentences, saving the British taxpayer millions of pounds but still ensuring justice is done."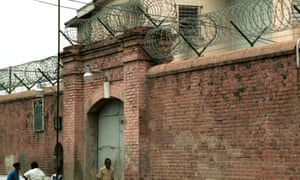 https://i.guim.co.uk/img/media/fa7532b53d15a351a9a2848dd37d57be7e20bca0/0_91_2000_1201/master/2000.jpg?w=605&q=85&auto=format&sharp=10&s=496b6a5435f31469cc685aad4cc1f90b 605w,
https://i.guim.co.uk/img/media/fa7532b53d15a351a9a2848dd37d57be7e20...
445w" sizes="(min-width: 660px) 620px, (min-width: 480px) 605px, 445px" class="gu-image" itemprop="contentUrl" alt="St Catherine district prison in Spanish Town, Jamaica" />
The deal is the culmination of almost a decade of negotiations between the UK and Jamaican governments. Former Labour prime minister Gordon Brown said in 2007 that Jamaican prisoners would be sent to serve their sentences in their country of citizenship if both they and each country agreed, but this voluntary deal spent years unratified by the Jamaican parliament.
Cameron then affirmed his commitment to building prisons in other countries in order to secure transfer agreements in 2013, citing Jamaica and Nigeria as examples. But Jamaica formally refused to sign a compulsory prisoner transfer agreement the following year, saying it was unconstitutional.
Now that a deal has finally been agreed, it could still be challenged under human rights laws by Jamaican prisoners who have family ties in the UK and do not want to return.
During his trip to the island, the first by a UK prime minister since a visit by Tony and Cherie Blair in 2001, Cameron will also say £300m of UK aid money will be spent on a Caribbean-wide infrastructure fund.
The prime minister said the fund to build roads, bridges, ports and other major construction projects would "create opportunities for British business" as well as helping the develop the region – in a sign the UK partly sees foreign aid money as a way of boosting its own companies.
The countries eligible for the infrastructure fund are Jamaica, Guyana, Belize, Dominica, Grenada, St Lucia, Antigua and Barbuda, St Vincent and the Grenadines, and Montserrat.
The UK is separately giving £30m for hospitals to become more resilient for natural disasters and £30m for improving management of public services across the Caribbean.
Cameron will say the fund makes Britain one of the largest bilateral aid donors to the Caribbean, but in the runup to the trip he has faced calls for the UK to paybillions of pounds in reparations to Jamaica to compensate for slavery.