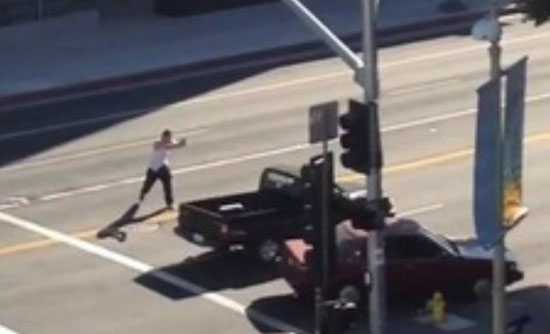 A gunman was killed by Los Angeles police after he went on a random shooting  spree in Hollywood early Friday (Dec 9).
According to the Los Angeles Times, the gunman, with no apparent motive,  opened fire randomly in broad daylight on several different cars as they drove  by him on Vine Street.
A 40-year-old man driving a silver Mercedes  Benz  was shot in the jaw and is reported to be in critical condition at Cedars-Sinai  Medical Center in Los Angeles.
William Wiles, who lives in an apartment overlooking the intersection of  Sunset Boulevard and Vine Street and had a perfect view of the shooter said he  looked outside his window and saw a young man in a white shirt firing randomly  at cars.
Wiles said the gunman was "being crazy and spastic" and he could hear him  shouting loudly. In a brief video he sent to the L.A. Times, you can clearly see  a man in the intersection firing a gunshot at a pickup truck.
Another witness, Gregory Bojorquez, who was on his way to a nearby bank, also  said he saw the gunman "shooting randomly at cars and in the air."
"At first it seemed like a movie but then you could hear the shots hitting  metal," Bojorquez said.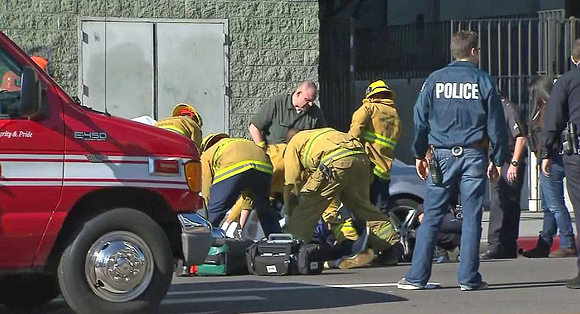 Oscar Herrera told L.A. news station KABC-TV that he saw a man with a gun  pointed up in the air walking northbound on Vine Street, and then when traffic  started coming by, he lowered the gun and started pointing it at cars before  opening fire. "It was shooting crazy," Herrera said.
Officers shot the man, who witnesses claim was holding a knife as well as a  gun, after he attempted to draw his weapons on police. He died at the scene and  video images show his body in the middle of the street covered in a sheet.