If you think we'll see anyone playing the national pastime protesting the national anthem, think again. At least that's what Gary Sheffield believes.
The retired nine-time All-Star and member of the 500 home run club told us Tuesday that mandates from organizations may be preventing players from openly protesting "The Star Spangled Banner" like San Francisco 49ers quarterback Colin Kaepernick. But that doesn't mean some players haven't quietly been conducting their own demonstrations for years.
"Baseball is different than football. They have a sideline, they don't have a dugout. They don't have cover," says Sheffield. "Us as baseball players, it's the national anthem going on and some guys are up in the clubhouse eatin'. They've been doing that for a long time. It just don't get the attention because you don't know what they're doing and you definitely don't know why they're doing it."
WHEN I WAS PLAYING WE HAD SOME ORGANIZATIONS REQUIRE THAT YOU STAND ON TOP OF THE DUGOUT DURING THE NATIONAL ANTHEM. IF YOU WERE LATE, YOU GOT FINED.
Speaking at an MLB on TBS luncheon in Manhattan, Sheffield told us he played for several clubs that would fine players for missing the anthem.
"When I was playing we had some organizations require that you stand on top of the dugout during the national anthem," says Sheffield. "If you were late, you got fined. We knew we had to be on the top step."
One of those organizations, according to Sheffield, was the New York Yankees. Sheffield played in The Bronx from 2004-6 while uber patriot George Steinbrenner was still in charge of the team and he says players were also required to stand at the top of the dugout during the seventh inning stretch when "God Bless America" was played.  
The Yankees did not return a request for comment about their policy.
While Kaepernick's decision to kneel during the anthem has outraged large segments of the country—and earned him death threats—he has the admiration of Sheffield who wishes more baseball players would speak their mind as freely as he did during his 22-year career. But with so much money flowing through the game, Sheffield, who will join Casey Stern and Pedro Martinez in the TBS studio during the postseason, says players are reluctant to take controversial stances that could harm their earning potential.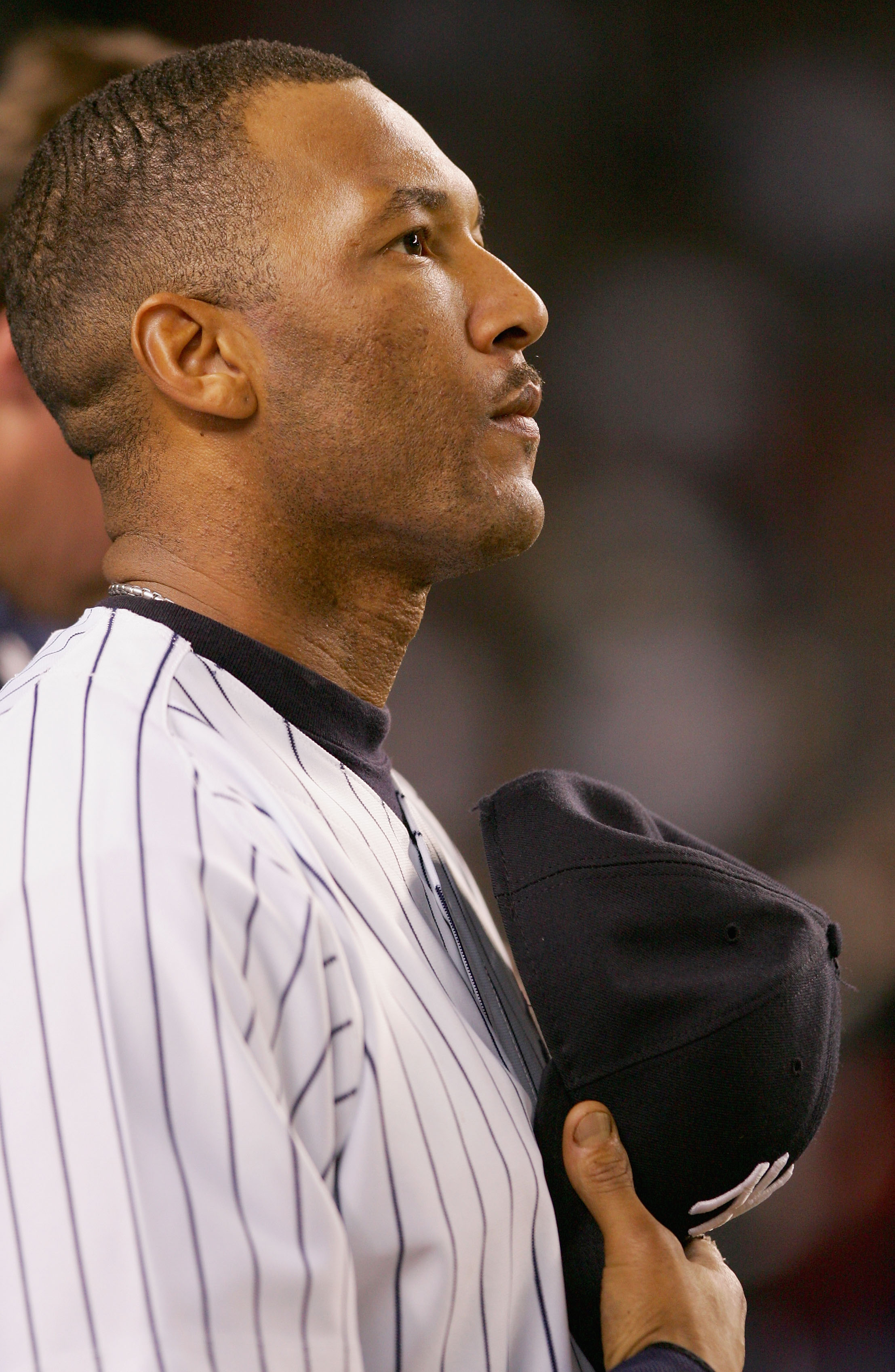 Gary Sheffield.
"What Colin is doing should be commended," says Sheffield. "Very rare do you see any athletes speak up, especially baseball because of the money.
"Money changes people and what happens is you fall for anything when you care about money more than anything. I've been saying this for a long time. I respect people who stand for something. You don't discredit the person speaking out. Respect the opinion. Basically acknowledge the fact that these things are happening."
Unlike the NFL, baseball's guaranteed contracts should in theory give players a sense of security to speak their mind on controversial topics—or even perform acts of protest. But Sheffield's TBS colleague Ron Darling, who played 13 years in the big leagues and has become one of the game's most respected broadcasters, says baseball's schedule is probably working against more players following Adam Jones. The Orioles center fielder is the highest profile major leaguer to express solidarity with Kaepernick. But the fact that Jones, an African-American in asport that's now only 8 percent black, plays every day, then has to meet with the media, then pack his bags and head to a new city three days later to face the same questions deters more players from joining the conversation.  
"Baseball has been about uniformity," says Darling. "Kaepernick, he can go away for a week. Baseball is every day. Do you have the stamina to go through what Adam is going through every day?"
Just like Sheffield, Darling would love to see more ball players freely speak their mind. But the broadcaster, who will be calling the 2016 American League postseason with Ernie Johnson and Cal Ripken Jr. come October, doesn't expect them to.
"I think that it's really important for the athlete who has the wherewithal to talk out," says Darling. "The intelligence or street smarts or street cred or whatever it takes to back it up. Those that can should do it more."