CONSULATE GENERAL
OF BARBADOS
OFFICIAL CORREPSONDENCE
SHOULD BE ADDRESSED TO THE
CONSUL GENERAL OF BARBADOS
820 SECOND AVENUE
5TH FLOOR
NEW YORK, NY 10017
TELEPHONE: 212- 551- 4325
FACSIMILE: 212-867-8899
EMAIL: newyork@foreign.gov.bb
Fellow Barbadians:
By now you would have learnt of the passing of our leader and Prime Minister, the Honourable David John Howard Thompson at his home in St Philip on Saturday, October 23rd.
It is with a deep sense of sorrow that we mourn our leader who will be forever cherished by the Diaspora. For it is quite evident that he shared our hopes and aspirations.
At this time, although our nation has lost its leader, our collective thoughts and expressions of solemn condolences are primarily with his wife Mara, his three daughters, Misha, Oya and Ose-Marie, as well his parents.
There will be a State Funeral on Wednesday, November 3, 2010 at 9:30 a.m. at Kensington Oval. In the event of inclement weather, the funeral will be held at the Sir Garfield Sobers Gymnasium. The interment will be at St. John's Parish Church.
Prime Minister Thompson's body will lie in state as follows:
Thursday, October 28, 2010
9:00 a.m. to 5:00 p.m. - Parliament Buildings
Friday, October 29, 2010
From 2.00 p.m. - Combermere School
Saturday, October 30, 2010
9.00 a.m. – 5.00 p.m. - Democratic Labour Party Headquarters
Monday, November 1, 2010
10.00 a.m. – 5.00 p.m. - St. John's Parish Church
Tuesday, November 2, 2010
9.00 a.m. – 5.00 p.m. - Parliament Buildings
../2
-2-
A Condolence Book will be opened at the Consulate-General of Barbados, 820 2nd Avenue, NY, NY 10017 from 8:00 a.m. until 6:00 p.m. on the following days:
· Thursday, October 28
· Friday, October 29
· Monday , November 1
· Tuesday, November 2
In addition, there will be a Memorial Service for the late Prime Minister on Friday, November 19, 2010. The venue and time will be announced at a later date.
Yours faithfully
Lennox Price
Consul General
October 27, 2010
-----------------------------------------------------------------------------------------------------------
David John Howard Thompson, MP (born 25 December 1961) has been the sixth Prime Minister of Barbados since January 2008.
Thompson was born in London to his father, Charles Thompson, a porter and painter and his mother, Margaret Knight, a secretary and nurse. Both parents remain strong influences in Thompson's life. Thompson was brought up with his six siblings at Fitts Village, Saint James.
He came to politics in a by-election after the death of National Hero Prime Minister Errol Barrow, gaining his parliamentary seat for Saint John in 1987. Whilst Erskine Sandiford was in office as Prime Minister, Thompson served as Minister of Community Development and Culture from 1991 to 1993. He was subsequently appointed Minister of Finance from 1993 to 1994. Thompson became leader of the DLP after Sandiford resigned after losing a parliamentary no confidence motion and unsuccessfully led the Democratic Labour Party in elections in 1994 and 1999. He resigned as party leader in September 2000 following his third electoral defeat as party leader in the St. Thomas by-election. However, when party leader Clyde Mascoll switched allegiance to the Barbados Labour Party, Thompson once again became opposition leader in January 2006.
The DLP won the general election held on January 15, 2008 with 20 seats against 10 for the Barbados Labour Party, which was led by former Prime Minister Owen Arthur. Thompson was sworn in as Prime Minister on January 16,
becoming Barbados' sixth prime minister and the third to serve under the DLP.citation needed Thompson was also re-elected to his own seat from St. John constituency with 84% of the vote. He announced his Cabinet on January 19, including himself as Minister of Finance, Economic Affairs and Development, Labour, Civil Service and Energy; it was sworn in on January 20.
At a media briefing at his official Ilaro Court residence on May 14th, 2010, Prime Minister David Thompson, accompanied by his personal physician Dr Richard Ishmael, said that he had been suffering with stomach pains since early March. He also revealed he had undergone tests in Barbados, which were inconclusive, and had also travelled with Ishmael to New York where additional tests were carried out. The process of testing would be ongoing and, because of this, Attorney General and Deputy Prime Minister Freundel Stuart would assume his office in his absence.
On August 30th, Mr. Thompson re-assumed his post of Prime Minister, having returned to Barbados the day before. On Tuesday September 7th, 2010 Mr. Thompson left Barbados for New York on a trip of unknown nature. A short time later Mr. Thompson's personal physician, Dr. Richard Ishmael, informed the general public that the Prime Minister is suffering from pancreatic cancer.
Mr. Thompson died at around 2:10 on the morning of October 23rd 2010 at his home in Mapps, St. Philip, Barbados.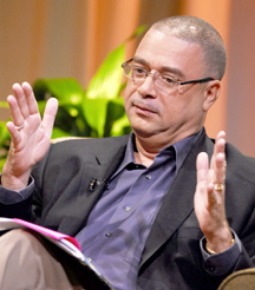 --------------------------------------------------------------------------------------------------------------------------------------------------------------------------------------------------------------------------------------------------------------------------------------------------------------------------------
A letter from Prime Minister and MP for St John David Thompson to his constituents which was published in the MIDWEEK NATION October 13, 2010.
"Dear Loving People of St John,
Since 1987 when you first embraced me as your friend and then your elected representative, it has been my happy privilege to be among you on a frequent basis. In recent months, however, I have not been able to visit you in your homes, have a drink with you in the shops, worship with you or even share a joke on the block. As you know, I have had some serious health challenges which have curtailed my active life, including my enjoyable sojourns to St John to see you.
You would have heard from me on every occasion that I have shared my sentiments with the entire country. But for me that's simply not enough for the the people of St John, given the very close relationship which has always been renewed through our face-to-face contact throughout these past 23 years.
Life has been lonely without you. I have therefore decided to write you a more personalised letter.
In my quiet moments I have happily replayed in my mind the truly splendid times we have shared on the hard courts at Gall Hill; on the streets of Cherry Grove; the hills of Society; and in the hamlets of Venture and Edgehill; and the neighbourhoods of Massiah Street, Mount Tabor and Wilson Hill.
I yearn for a special opportunity in the not-too-distant future to be able to do it all over and over again. And with your prayers and God's help I will. In the meantime, the programme to improve the quality of life for you is being given the special attention it always deserved, and which I have personally been able to direct since January 2008.
There is more work to be done that will be done. There will be personal needs to be attended to, and you are already aware of the well-known persons in your community with whom you can be in contact for assistance and direction.
They are under instruction to act on my behalf because I am yours and you are mine.
Be comforted in the knowledge that while I dearly love all of Barbados, the special bond between you the people of St John and me is unshakeable, even in difficult times of sickness and separation.
Know for sure that this experience has brought me much closer to God, whose compassionate love and grace I commend to you based particularly on my personal experience these past six months.
I invite you to continue to uphold my family and me in prayer at home and at church; in communities and in neighbourhoods wherever you meet. May God comfort everyone who may have lost relatives in recent times; may He bless all who are faced with personal and health challenges; indeed, may He bless each and every family of St John; each and every child.
I remain not just your caring Prime Minister, but your dedicated representative and your true friend and confidant."
--------------------------------------------------------------------------------
BRIDGETOWN, Barbados, Saturday October 23, 2010 – Several regional leaders and official figures and organisations have paid tribute to late Barbadian leader David Thompson and sent their condolences to the government and people of Barbados and Thompson's family and friends.
While aware that the 48-year-old former prime minister was battling pancreatic cancer, they all said news of his death had saddened them.
CARICOM Secretary General, Edwin Carrington:
"His short term as Prime Minister of Barbados and thus Member of the Conference of Heads of Government of the Caribbean Community did not afford him the opportunity and scope to make the full contribution his talents promised to bring to the integration process at that level," he said, adding that Thompson's deliberate, evidence-based approach to issues and the search for their resolution, while not always popular, sought to provide a well-grounded basis for decision making.
"His calm, deliberate manner also served to facilitate the discussions of the most delicate and difficult matters at the highest level. Those said qualities endeared him to most of us."
Jamaica Prime Minister and CARICOM Chairman Bruce Golding:
He said the Caribbean has lost one of its youngest and most vibrant leaders who remained strong, determined and focused to the very end. Golding said that in less than three years as Prime Minister, Thompson had demonstrated strong leadership within the councils of CARICOM and was firmly committed to the region's goals.
"He fought a brave fight to the very end demonstrating the unconditional love for his country and a commitment to the people of Barbados. His will be a great loss to the region."
Jamaica Opposition Leader Portia Simpson-Miller:
She described Thompson's passing as "untimely in light of the great hope and potential he represented as the Prime Minister of one of the Caribbean Community's most integral member".
"All of us had hoped that his health would have improved. In the end it confirms the mortality of the human being. We here in Jamaica mourn with the people of Barbados the loss of their Prime Minister, a true son of the Caribbean who during his life had been an inspiration to so many people. We particularly express our condolences to Prime Minister Thompson's wife and family, his Party and Parliamentary colleagues in Barbados as well as those of his peers and contemporaries beyond Barbados."
"We mourn with and wish the government of Barbados the very best at this time as we anticipate that the now necessary and imminent transitions will proceed smoothly so that Barbados can continue to make its notable contributions to this region and the world at large."
Bahamas Prime Minister Hubert Ingraham:
"Like all his friends and colleagues I had hoped that this day would have been postponed. David has been a valued member of the Conference of Heads of Government of the Caribbean Community and his voice will be sadly missed in future deliberations. Still a young man, David had much to contribute to his country and to our region."
St Lucia Prime Minister Stephenson King:
"I have worked with Prime Minister Thompson over the past few years, and have always been impressed with his commitment to improving the quality of living of all Barbadians and the people of the Caribbean. It is the kind of commitment that all leaders should try to emulate. He was a true renaissance man, and we will forever be inspired by his oratorical skills, his solution-oriented, professional approach to leadership, his thoughtfulness, but moreover, his humanity. We in St Lucia will honour the legacy of Prime Minister Thompson."
King also said his Cabinet would meet shortly to decide on an appropriate tribute to Thompson, who was considered "a true friend of St Lucia".
Trinidad and Tobago Prime Minister, Kamla Persad-Bissessar:
"The untimely passing of Prime Minister David Thompson has robbed the people of Barbados and the Caribbean of one of its new and important leaders, who had emerged as a critical thinker and firm integrationist. At age 48 and just two and a half years into his term, Prime Minister Thompson had already made his mark in the CARICOM family, with his cogent arguments, firm resolve and pleasant manner. Prime Minister Thompson's death has denied the people of all CARICOM nations of the opportunity to benefit from his wisdom and vision."
She added that his gritty resolve on such matters as the CARICOM Single Market and Economy (CSME), the illegal drug trade and air transportation exemplified his commitment and passion for his country and the wider Caribbean.
St Kitts and Nevis Prime Minister Dr Denzil Douglas:
"In this complex and challenging 21st century chapter of the Caribbean's political evolution, Prime Minister Thompson repeatedly proved himself to be especially well-suited to the demands of this era. Chosen by his people to lead them and Barbados through this perilous period of global instability, he had the vision, the character, and the wherewithal to precisely this, and was indeed totally immersed in meeting these awesome responsibilities when he was mercilessly struck down in the prime of his young and outstanding life," he said.
Dr Douglas said Thompson "was known and admired by the people of St. Kitts and Nevis, the St. Kitts-Nevis Labour Party, and was a valued colleague and friend to me and my Government."
"The loss is great. Our sadness, indescribable," he added.
Antigua and Barbuda Opposition Leader, Lester Bird:
"David Thompson was a good personal friend of many years standing. It is a matter of great regret to me that after the years of working so diligently for the Prime Ministership, he was not able to fulfill his potential as an outstanding head of government of Barbados and as a Caribbean leader."
Caribbean Tourism Organisation:
"Prime Minister Thompson was steadfast in his commitment to the CTO. His support was evident in Barbados' kind hosting of major CTO events during his tenure – the 11th Annual Caribbean Conference on Sustainable Tourism and the first ever Leadership Strategy Conference – and his dedication to the cause of the Caribbean's economic prosperity through tourism. Prime Minister Thompson was personally involved in advocating the issues of regional tourism at the highest levels overseas as well as throughout the Caribbean. We will forever cherish his guidance and leadership."
OAS Secretary General José Miguel Insulza:
He recalled that Prime Minister Thompson had devoted his life to improving and expanding social services and creating opportunities for economic growth in Barbados and said his legacy would always be remembered.
"The OAS will honour Prime Minister Thompson's life-long dedication to democracy at the next meeting of the OAS Permanent Council," Insulza said.