{VIDEO + PICS} Father, Mother And Son Found Guilty Of Murdering Family's Three Teenage Daughters In Honor Killing After They Dared To Date Boys
Lareeb Khan strangled by father Azadullah while mother Shazia looked on 
The couple then dumped the 19-year-old's body down an embankment 
Azadullah admitted killing while Shazia denied it - but both jailed this week
Judge said they had a right to their culture, but not at the expense of life
A Muslim mother and father who murdered their own daughter for bringing 'shame' on the family because she had sex with a man they did not approve of have been caged for life in Germany.
The so-called 'honour killing' of Lareeb Khan, 19, was carried out by her father Azadullah, 52, who crept into her bedroom at night and strangled her while her mother Shazia, 42, looked on.
The killing was triggered because they learned she had tried to steal condoms for her illicit sex sessions with her lover.
Lareeb Khan was strangled by her father as her mother looked on after they discovered she had been caught trying to shoplift condoms. They disapproved of her relationship with a man called Raheel, 23 
Both then disposed of the body of the 'bright and talented' youngster whose only crime was to fall in love with a 23-year-old man called Raheel they disapproved of.
The crime shocked Germany which is struggling with an influx of almost a million refugees, most of them Muslim, changing the face of the country forever. The case stokes fears of a schizophrenic society evolving with some immigrants unable to jettison values and beliefs that have no place in modern western societies.
Judge Volker Wagner referred to their right to live in their own cultural cosmos when he summed up before sentencing - but not at the expense of human life.
The Khan parents, a court in Darmstadt has heard over the past two months, were originally from Pakistan and intended to arrange a marriage for Lareeb, a dental technician who, unlike her mother and father, spoke perfect German and was totally assimilated into society.
Breaking point for the parents happened in January this year when police wrote a warning letter to Lareeb's mother and father saying she had been caught trying to shoplift condoms but that she would be let off with a warning.
Her father snapped. The court heard how he crept into her room as she slept and strangled her while her mother looked on. Both then dressed dead daughter Lareeb, a dental technician, in her clothes.
Khan and his wife, originally from Pakistan, wanted to arrange a marriage for their daugther, and decided to kill her after she brought 'dishonour' on them. They have been jailed for life for the murder by a German court
Shazia tried to claim that she was helpless when it came to the killing, but her younger daughter told the court that she ruled the house. The judge also dismissed her claims, saying she could have stopped her husband 
They then wheeled her in the wheelchair used by Lareeb's grandmother from their high-rise apartment to the family car, drove to a secluded embankment in their home city of Darmstadt and tipped the corpse down it.
Mother Shazia would later tell police that she did not intervene to try to save her daughter out of fear of her husband. But the court learned she was every bit as fanatical as him and was often at loggerheads with Lareeb.
You lived in two cultural worlds. It is not the case that you may not be allowed to live in your own culture. But you must also deal with our values. 
Khan told police after the killing: 'My daughter could not defend herself because one arm was pinned under the mattress and she could not speak because I was applying so much pressure. I noticed that after five minutes she was dead but I continued to press.'
He said they dumped her body and planned to tell people she had run away. But her corpse was found the next day and the parents confessed to the crime almost immediately.
Judge Wagner heard the father take all the guilt for the crime, that his wife did not have the strength to resist him. Axel Kollbach, her lawyer, asked for her to be sentenced only for help in disposing of the body, not murder, and to take into account the 'cultural background' to the crime.
But Judge Wagner was having none of it, stating: 'She clearly is also guilty of murder. Yopu feared being shunned by the community if it got out that your daughter had slept with her boyfriend.
'It was worth killing your daughter for. A woman cannot be so physically weak that she doesn't intervene in the murder of her own daughter and instead watches it for five minutes.
Judge Volker Wagner referred to their right to live in their own cultural cosmos when he summed up before sentencing - but not at the expense of human life. The case has shocked Germany
Khan told the court he would 'undo it' if he could as he left the room to start his sentence
'You lived in two cultural worlds. It is not the case that you may not be allowed to live in your own culture. But you must also deal with our values.' He said they could have cut their daughter off from the family if they wanted to show their disapproval of her lifestyle, not murder her.
He added: 'What is justice? Lareeb is dead, her sister Neda lives with foster parents, the parents are facing life imprisonment...'
Lareeb's younger sister Neda, 14, condemned her mother in court, saying she was the effective head of the family and that Lareeb actually got on better with her killer father than her mother.
Of the murder she said: 'My father created his absolute own killing will.'
Her father's pathetic last words to the court on Tuesday before he was led away to begin his sentence were spoken through an interpreter. 'I would undo it all if I could,' he said. 'I accept any punishment.'
+++++++++++++++++++++++++++++++++++++++++++++++++++++++++++++++++++++++++++++++++++++++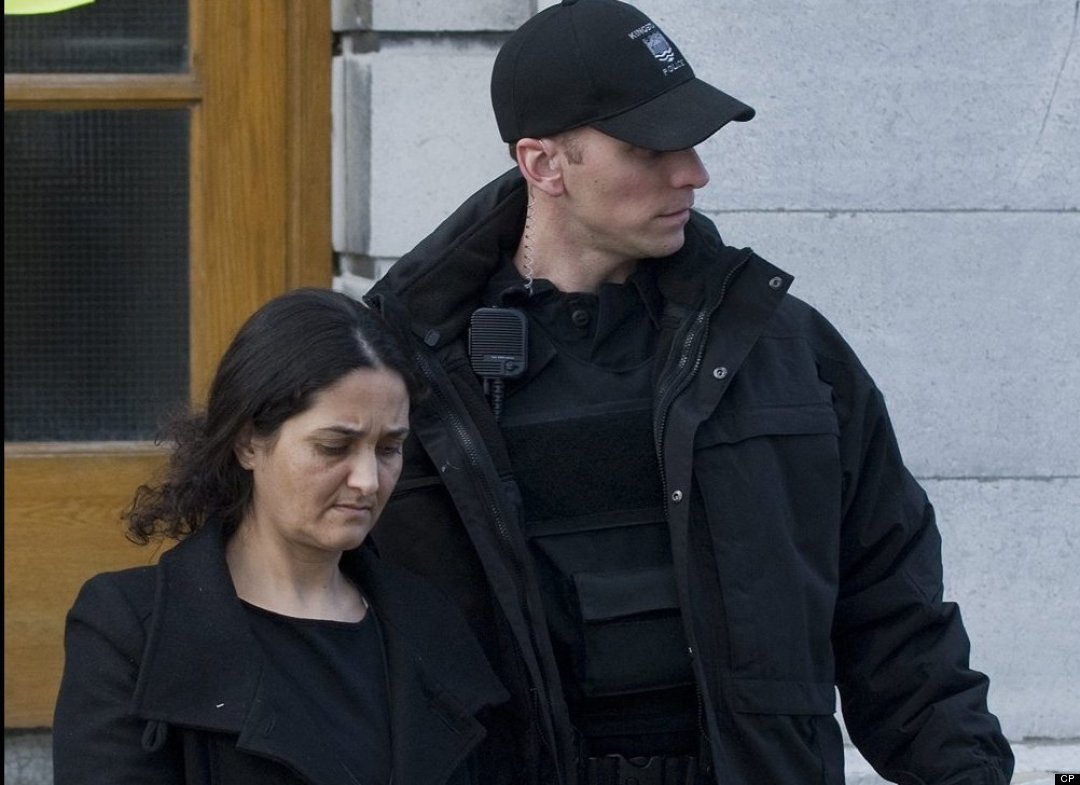 ---------------------------------------------------

Guilty: Mohammad Shafia, right and his son, Hamed Mohammed Shafia, left, being brought out of the Frontenac County courthouse in Kingston, Ontario, Canada
A jury today found an Afghan father, his wife and their son guilty of killing three teenage sisters and a co-wife in what the judge described as 'cold-blooded, shameful murders' resulting from a 'twisted concept of honor'.
The jury took 15 hours to find Mohammad Shafia, 58, his wife Tooba Yahya, 42; and their son Hamed, 21, each guilty of four counts of first-degree murder. First-degree murder carries an automatic life sentence with no chance of parole for 25 years.
The four bodies were found in June 2009 in a car submerged in a canal in Kingston, Ontario, where the family had stopped for the night on their way home from Niagara Falls.
Prosecutors said the daughters were killed because they dishonored the family by defying rules on dress, dating, socialising and going online.
Locked away: Tooba Mohammad Yahya leaves the Frontenac County Courthouse following a guilty verdict. She will serve a minimum of 25 years without parole
After the verdict was read, the three defendants again declared their innocence in the killings of sisters Zainab, 19, Sahar 17, and Geeti, 13, as well as Rona Amir Mohammad, 52, Shafia's childless first wife in a polygamous marriage.
After the jury returned the verdicts, Mohammad Shafia, speaking through a translator, said: 'We are not criminal, we are not murderer, we didn't commit the murder and this is unjust.'
His weeping wife, Tooba, also declared the verdict unjust. She said: 'I am not a murderer, and I am a mother, a mother.'
Their son, Hamed, speaking in English said: 'I did not drown my sisters anywhere.'
But Judge Robert Maranger was unmoved, saying the evidence clearly supported their conviction for 'the planned and deliberate murder of four members of your family'.
;It is difficult to conceive of a more despicable, more heinous crime ... the apparent reason behind these cold-blooded, shameful murders was that the four completely innocent victims offended your completely twisted concept of honor ... that has absolutely no place in any civilized society.'
Killed by their family: Prosecutors said, from left, Geeti, Zainab and Sahar Shafia were murdered in an honour killing because they would not comply with the family's strict disciplinary rules
The defense had contended the car accidentally plunged into the canal after one of the daughters went on a joy ride.
The accused killed the girls because they dishonoured the family by defying its disciplinarian rules on dress, dating, socialising and going online.
The fourth victim was Shafia's first wife, who was infertile, and was living with the family in Montreal. The polygamous relationship, if revealed, could have resulted in their deportation.
Prosecutor Laurie Lacelle had previously told the court: 'Shafia, Tooba and Hamed had decided that there was a diseased limb on their family tree. Their decision was to trim the diseased limb and prune the tree back to the good wood.'
The trio denied the killings, claiming that evidence points to the deaths being an accident.
Killed by her husband: Rona Amir Mohammad was called 'auntie' by her husband's children
Police made a grisly discovery in the summer of 2009 in canal locks east of Toronto when they found the bodies of the three sisters and 52-year-old Rona Amir Mohammad in a submerged Nissan car.
The prosecution alleged it was a premeditated murder, staged to look like an accident after it was carried out.
The court heard evidence that it appears the four made no attempt to escape the car through an open window, and the bodies were found eerily suspended inside.
There was no one in the driver's seat and three of the bodies had bruising to the back of their heads.
Defence lawyer Peter Kemp suggested that was plausible in an accident scenario.
The family had left Afghanistan in 1992 and lived in Pakistan, Australia and Dubai before settling in Canada in 2007.

Shafia, a wealthy businessman, married Yahya because his first wife could not have children.

The months leading up to the deaths were not happy ones in the Shafia household, the court heard.
Zainab, the oldest at 19, was forbidden to attend school for a year because she had a young Pakistani-Canadian boyfriend, and she fled to a shelter, terrified of her father, the court was told.
During the trial the court was played recordings in which Shafia talks about his daughters and the fact that they were dating while ranting about the family's honour.
Grisly discovery: The bodies of the three sisters and 52-year-old Rona Amir Mohammad were found in this car submerged in a Toronto canal
Zainab had married her boyfriend angering Shafia and causing family turmoil. After Yahya said that she knew Zainab was 'already done' but wished 'the two others' weren't, he responded saying: 'No Tooba, they were treacherous'.
Speaking about pictures of his daughter he said he was consoled adding: 'When I tell you to be patient, you tell me that it is hard.
'It isn't harder than watching them every hour with (boyfriends).  For this reason whenever I see those pictures, I am consoled. I say to myself, "You did well. Would they come back to life a hundred times, for you to do the same again".'
Jurors were also shown email exchanges between Zainab and her boyfriend. One explicitly warned of the potential danger her brother posed.
During the trial, Mohamma Yahya took the stand and used her time to rebut the view of their household as a harsh one.
In love: Zainab married Pakistani-Canadian Ammar Wahid making her father furious
Forbidden: Angel Ricardo Ruano Sanchez was Sahar's boyfriend for the last four months of her life
She said that her husband only hit the children once and used to badger them verbally if they were bad, not beat them.
Yahya described a tolerant house where the girls were not required to wear the traditional Muslim headscarf and were not forbidden from wearing makeup.
She did uphold the theory that their family forbid-not only the girls- all of their seven children from dating until they graduated from high school.
'Me and Shafia and also Rona, we decided that (until) the time that the children graduated from school and they … show their diploma to us, they are not allowed to have girlfriend or boyfriend or to get married,' Yahya said on the stand.
In addition to disputing the views of other witnesses, including Shafia's brother-in-law who said that Shafia tried to enlist him in a plan to drown Zainab, Yahya also had to address the many grievances listed in Rona's diary.
Punished: Tooba Mohammad Yahya was found guilty murder of three of her daughters and her husband's other wife who lived with their family in a polygamous relationship
Rona described a violent and miserable household where she was abused and pushed out. Apparently Rona wanted a divorce and that was the reason why Shafia allegedly included her among his disobedient daughters in the honour killing.
Other witnesses said the eldest daughter, Zainab, was forbidden to attend school for a year because she had a boyfriend.
The jury heard testimony that Zainab's sisters, Sahar, 17, and Geeti, 13, were hounded and trailed by their brothers because the parents suspected them of dating boys; that Sahar repeatedly said her father would kill her if he found out she had a boyfriend; that she had bruises on her arms; that Mohammad, the first wife who was helping to raise the children, also was brutally treated.
Zainab ran away from home for a couple of weeks and her sisters contacted authorities, saying they wanted to be removed from the house because of violence and their father's strict parenting, the prosecution said.
Prosecutor Laurie Lacelle presented wire taps and cell phone records from the Shafia family in court. In one phone conversation, the father says his daughters 'betrayed us immensely'.
Fazil Javad, Shafia's brother-in-law, said Shafia tried to enlist him in a plan to drown Zainab.
'Even if they hoist me up to the gallows, nothing is more dear to me than my honour. There is nothing more valuable than our honour,' Ms Lacelle quoted Shafia as saying in an intercept transcript.
The case brought up major questions about immigration and cultural integration in Canada, which takes in 250,000 immigrants a year, more per capita than anywhere save Australia.
In recent years a number of so-called honour killings have prompted debate about absorbing immigrants into the mainstream and dealing with culture clashes between immigrant parents and their children.
More than 80 Canadian Muslim organizations, imams and community leaders have signed a call for action against 'the reality of domestic violence within our own communities, compounded by abhorrent and yet persistent pre-Islamic practices rooted in the misguided notion of restoring family honour'.