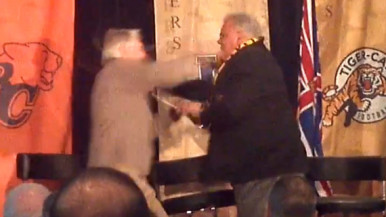 On Friday, two days before this year's Grey Cup, Kapp and Mosca attended  a luncheon to promote the league's alumni association and discuss that hit. Kapp  was given an olive branch to extend to Mosca, who didn't appreciate the gesture  and said so in salty terms.
    As the attached video shows, Mosca got out of his chair and swung his  cane, knocking Kapp's glasses off his face. Kapp then moved in and landed a  right-left combo that floored Mosca.
    After the two were separated, Kapp issued a brief apology, then made a  crack about Mosca.
    Some audience members thought the fight was staged—after all, Kapp went into  acting after his NFL career ended in the early 1970s, and Mosca is a former  professional wrestler. The Los Angeles Times thought the whole thing smelled like a stunt to help raise money for the alumni  association.
    The luncheon's host, comedian Ron James, swears it was real.
    "People had assumed it was staged or premeditated, but it was nothing of  the sort," James told the Canadian Broadcasting Corp.