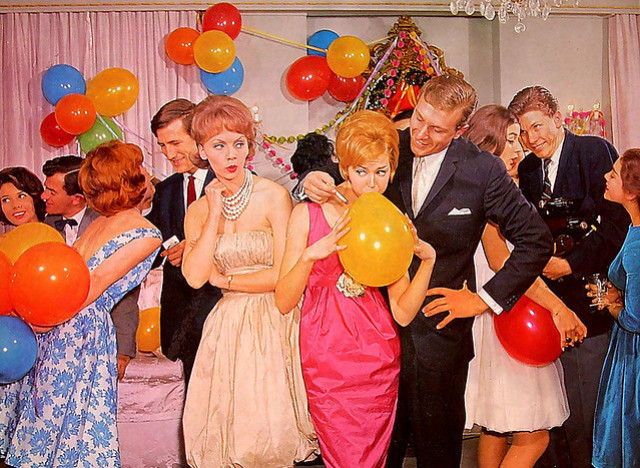 A cocktail party is the easiest solution for entertaining but, for some reason, has fallen out of favor (or at least the entertaining vernacular). I say this because when I suggest "Hey, you should throw a cocktail party" to my friends, they look at me as if I asked them to do something unspeakably bizarre. Delightfully old-timey but also wonderfully cost-effective, a cocktail party means little more than serving drinks and snacks. No one expects a full-blown dinner, therefore there is far less stress. And though we've been to cocktail parties that have lasted into the wee hours of the night, the norm is for a 2-3 time commitment.
Believe it or not, you can throw your own cocktail party for about $50, decor, drinks and food included. Here's how my budget usually breaks down:
First, you need glasses. For glassware, start at your favorite thrift shop. There, you can get about a dozen glasses with the same $5 that would normally get you a pack of plastic cups at the grocery store. For ease, I always go with rocks glasses--versatile for sodas, cocktails, even a martini in a pinch. Price Estimate: $5
Go for cheap party decor, used creatively. You can get surprisingly fancy with...streamers. This idea from the Kate Spade store relies on lots of cheapie cheap streamers, hung on the ceiling, to create "curtains." An adorable backdrop for the festivities that will only set you back...$10. On the table, do away with a tablecloth and instead roll out a runner...really, just bright red giftwrap. Price Estimate: $12.
Streamline serving. You'll need lots of cocktail napkins. Cocktail napkins make impromptu "plates" and "coasters." Go to the dollar store, pay about $2 for a big pile of them. And rejoice, now is the time to go for the fancy toothpicks. Price Estimate: $3.
TOTAL COST FOR SERVING AND DECOR: $20
Now, the menus. Each menu includes one big batch of drinks and two appetizers that are generous enough to feed 6-8. We're assuming that people will be bringing the usual suspects to the party: Chips, veggie platters, etc. Because that's what always happens.
A disclaimer: Yes, you can get way more if you stick to bags of chips, pretzels, whatever. But at the holidays, people tend to expect a little more. These recipes, if you can call them that, don't take up much time or money, so why not.
The True Martini Party New Amsterdam Gin, $14 for a 1.75L bottle Gin varies from manufacturer to manufacturer, because you're really dealing with a mix of different herbs. (So if you've ever wondered why Tanqueray tastes like juniper, but Bombay Sapphire is a bit more neutral, now you know.) New Amsterdam is a decent budget-priced entry and is about as low as you can go, price-wise, before you get into the "rubbing alcohol" territory.
Tribuno Dry Vermouth, $4 for a 750 mL bottle Vermouth also varies from brand to brand, but I've always liked Tribuno. It  does have a touch of a juniper element, which goes well with gin. How much you use depends on taste, but I like mine with a 1:4 or 1:5 ratio of vermouth to gin. Which, to some purists, is horrifying. But I don't consider a glass of gin to be a "pure martini" any more than a glass of whiskey to be a Manhattan. Plus, the vermouth tempers the...assertive...qualities of gin, making it great for those new to martinis.
Cannellini Bean Dip, $3 It's barely a recipe: Cook a diced onion in a bit of olive oil until deliciously caramelized, then toss in two cans of drained white beans. Then, smash them up until smooth. Serve with a squeeze of lemon and sliced rye bread (or whatever crackers you have around).
Stuffed Olives, $6 Another barely-a-recipe appetizer: Stuff olives with cubes of blue cheese, feta or goat cheese. (Feta is usually the cheapest option in my neck of the woods.) You can eat them, sure, or pop them in your martini. OR Canapes, $6 Cut storebought pizza dough into small circles and bake. Then, top with any of the following: Deli-sliced roast beef and balsamic, cherry tomatoes and mozzarella, deli-sliced havarti and apricot preserves.
TOTAL COST: $27 for booze and food
The Retro Punch Party
Go overboard at this party, which has a killer punch and the kind of over-the-top snacks that only should be had once a year.
Rum Punch, about $15 for white rum, cheap sparkling wine and juice(s) Well suited for the type of party where everyone either stays at your house or lives in walking/stumbling distance. Combine 1 1/2 cups white rum, 3 cups blood orange (or regular orange in a pinch) juice, 2 cups pineapple juice, 1 cup sparkling wine, 3 tablespoons lime juice and 2 tablespoons simple syrup. (Remember, simple syrup is just a mix of equal parts water and sugar.) Serve with plenty of ice, topping off with more sparkling wine (especially if you use regular orange juice instead of blood orange).
Candied Bacon, $4 You will think I'm crazy, but this is one of the best things ever. Dip slices of bacon in brown sugar, place on a foil-lined bacon sheet and bake until deliciously caramelized. It will be gone in about two seconds.
Pigs In A Blanket, $6 You know how to make these: Slice hot dogs (or use mini sausages), roll up in Crescent Roll dough, bake.
French Onion Dip, $4 This party gets an extra appetizer to make up for just how quickly the candied bacon will go. This is the classic back-of-the-french-onion-soup-mix recipe. Empty said french onion soup mix into sour cream, let sit, serve with veggies or crackers.
TOTAL COST: $29 for booze and food
The Wine-A-Palooza
This is a bit tricky, since it all depends on how much people will drink. Some experts say to count on two glasses of wine per person, but I think that's a low estimate during the holiday season. Plan on 4 glasses per person and err on the side of too much wine rather than too little. You'll get about 6 servings of wine per bottle.
So, for 8 people, you'll need about 6 750mL bottles of wine. Or, 3 1.5L bottles of wine.
Here, it's pretty much impossible to recommend enough wine and still have a budget left over for food. (Though we do recommend mini grilled cheese sandwiches for this one.) In lieu of that, I have a few suggested wines that are decent enough (remember, let them breathe for a little bit before serving) but won't completely kill your budget. These are all available nationally.
Three Wishes This is the house brand of Whole Foods and retails for $2-3 a bottle, depending on your state. The white selection isn't very good (too acidic), but the merlot and cabernet sauvignon have been successful at get-togethers. It's been mistaken for a $15 bottle of wine before, so that's a good sign.
The Little Penguin For some reason, budget reds fare better than budget wines. This merlot is smooth, not too tannin-y and won't burn a hole in your stomach. A nice choice, as is the shiraz (which is also delicately spicy). About $6 for 750mL, $10 for 1.5L.
Crane Lake This California label produces some very good finds, ranging from $3-10 per 750mL bottle. Their whites are the best in the budget category (Chardonnay and Pinot Grigio being reliably good), but the Merlot and Malbec are also very nice.
Charles Shaw This is Trader Joe's private label. Not a huge fan of it, but their red table wine isn't bad.
For more entertaining ideas, check out these tips from celebrity party planner Sebastian Centner:
---------------------------------------------------------------------------