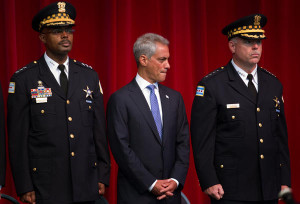 Chicago Mayor Rahm Emanuel says that cell phone video recordings of police officers are interfering with the officers' ability to do their jobs … and that is why the murder numbers are rising for his city.
Emanuel blamed the higher murder rate on "the chilling effects of high-profile protests against police brutality and officers' fear of cell phone videos of their actions going viral."
Last week, at a meeting of elected officials and top law enforcement officials, Emanuel said, "We have allowed our police department to get fetal and it is having a direct consequence." He then added, "They have pulled back from the ability to interdict … they don't want to be a news story themselves, they don't want their career ended early, and it's having an impact."
It's an interesting claim from a mayor whose city was dubbed the "murder capital" of the nation back in 2012, long before the rise of viral police brutality videos and the popularization of the Black Lives Matter movement.
Last month, statistics were released by the FBI showing that Chicago had 411 killings, more than New York's 333 murders and Los Angeles' 260 murders. This is despite the fact that Chicago has a smaller population than both of those cities do.