Mark Myrie, Buju Banton government name, and his son Markus Myrie have been dominating the headlines since last week Thursday when they had a small ruckus that spilled over online. Urban Islandz broke the story last Thursday evening that the Gargamel and his son Markus had an altercation and the younger Myrie posted some highly disrespectful messages on his Instagram Story. In his new statement on the Gram, Markus expressed his regrets while tagging Buju and telling him he loves him.
"My only regret is that I allowed myself to get so blinded by anger that I said things about my father and to the public that I shouldn't have said, but let he without sin cast the first stone. I have no hatred in my heart for my father," Markus wrote.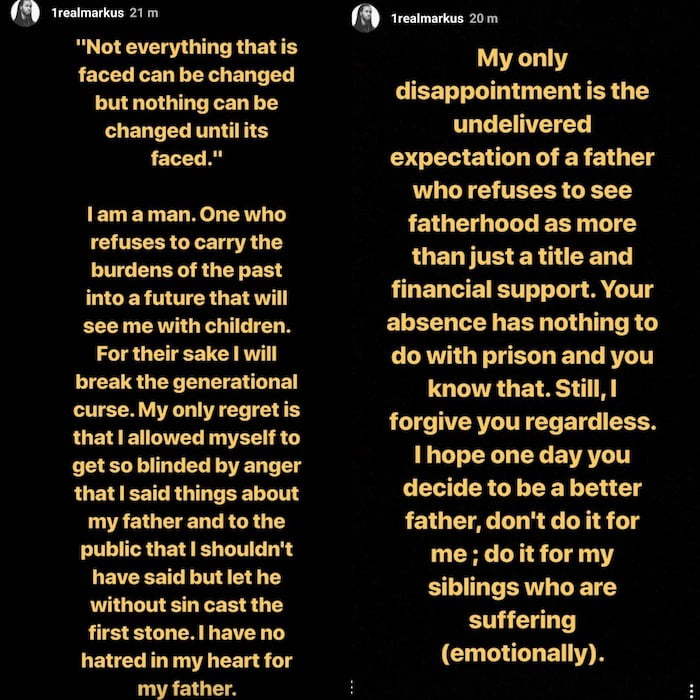 The music producer says he is disappointed in his father for not being there for himself and his siblings. He expressed that fatherhood goes well beyond financial support. "Your absence has nothing to do with prison, and you know that," Markus continues. "Still, I forgive you regardless. I hope one day you decide to be a better father, don't do it for me; do it for my siblings who are suffering (emotionally)."
Markus Myrie didn't say he was sorry or said he is apologizing to his father for the statements he made last week. In his rant, he called the legendary singer a "coke head" and suggest that he is "gay."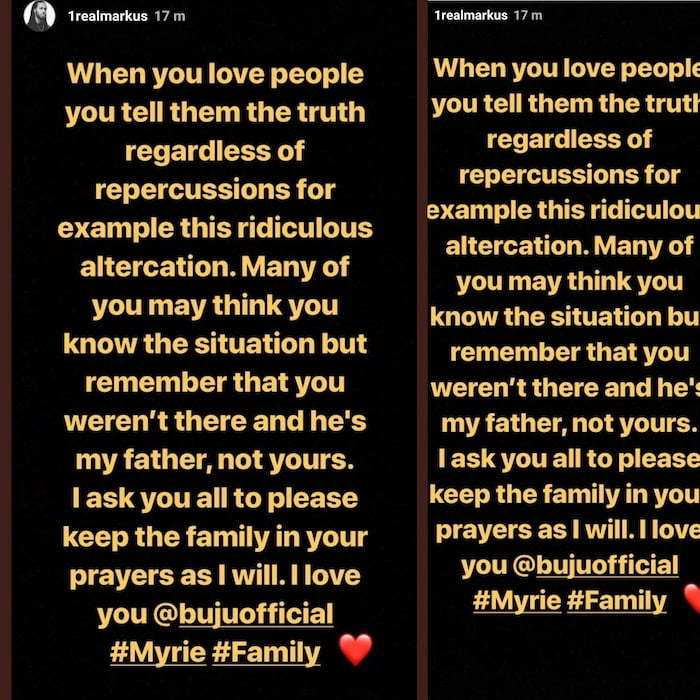 "I ask you all to please keep the family in your prayers as I will. I love you @Bujuofficial #Myrie #Family," Markus added.
Markus Myrie also confirmed our reporting that he had a physical altercation with Buju Banton while withholding the details about what went down. On Monday, he posted a photo of himself and Buju which is the first sign that the two are mending their relationship.