Some of your favorite reggae/dancehall stars are happily married.
In Dancehall culture, the "gyallis" narrative and declaration is almost like a rite of passage for most male artistes. Very few don't have at least one anthem proclaiming that they're a profound ladies' man. It's almost as if the culture demands it; as if there is an illusion that the artiste will not be respected the same way if they are seen or heard promoting monogamy. That false notion has been perpetuated throughout the genre's culture for years. It was Vybz Kartel, the great dancehall legend who said "Love dem, tender touch dem – different gyal everyday," in his song fittingly titled "Gyallis Anthem." Mr. Vegas then put his own spin on the "gyallis" culture when his own anthem introduced a dance for the trend, "the gyallis swing."
It's no secret that dancehall celebrates the player lifestyle and seemingly looks down its nose at married life. It's easy to forget that some of these stars are actually married men because of how little they acknowledge it. Of course, there is nothing wrong with wanting to keep your private life… well, private, but if their marital status was talked about more than the philandering theme that is prevalent in dancehall, it might just normalize the tradition in the culture. Thankfully more reggae and dancehall stars have been tying the knot recently which mitigates the unwarranted stigma associated with marriage in the industry. Here are a few big names in dancehall and reggae music who many might not know are married.
1. Romain Virgo
On top of being a brilliant performer and vocalist, Romain Virgo is also a husband. The reggae singer recently celebrated his first wedding anniversary with his wife, Elizabeth. The two tied the knot in late 2018 after being together for over six years. In September of that year, Romain announced that he would be asking Elizabeth to take his hand in marriage during their first official photoshoot as a couple. In the video that has garnered over 2 million Youtube views, an excited Romain speaks nervously into the camera. "What's up world? Today I'm the most excited, nervous at the same time human being on Earth," he continued. "And today I'm getting m- mi nearly seh married."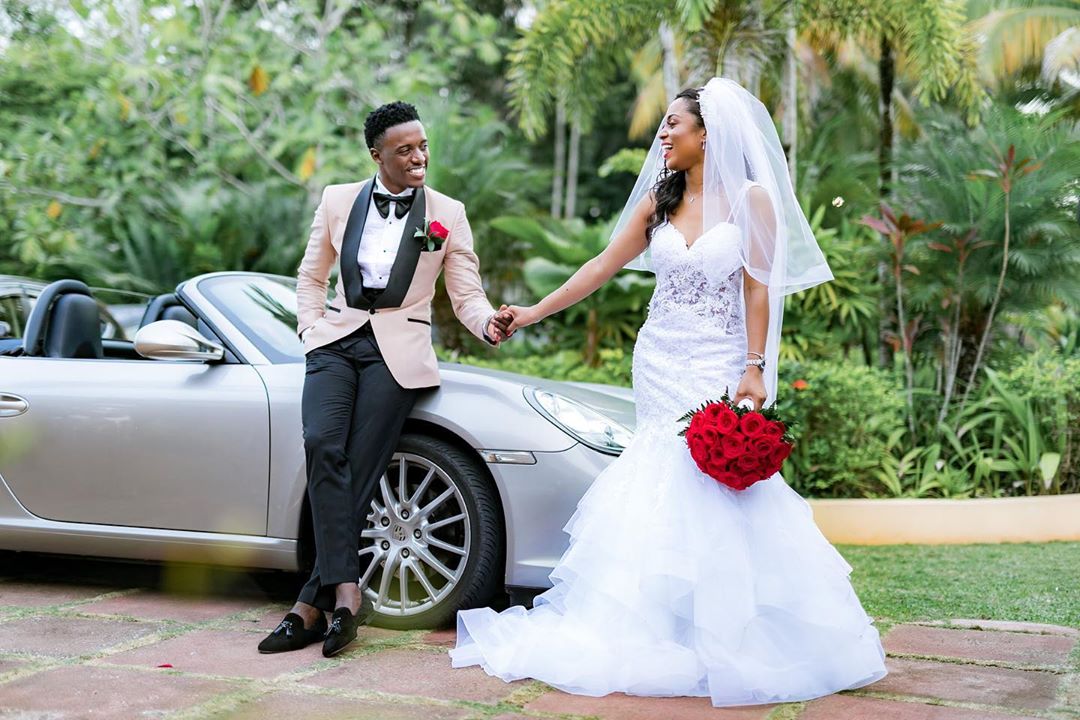 The video: "Romain Virgo – In This Together (Proposal Video)" features the couple shooting at different locations before finally arriving at a river scene where Romain got down on one knee. They both shed a tear or two as they hugged in celebration of what was to come. The wedding wasn't a massive public event, and many people still don't realize that Romain is even married. Though the "I Am Rich In Love" singer likes to keep his private life private, he could not hesitate to celebrate his wife on social media in September 2019 when he wished her a happy birthday and a happy anniversary. Happy birthday my love… Ohhhhh but it's our Anniversary! 1 up baby! Forever to go…" he wrote. The lucky Mrs. Virgo must have been flooded with gifts on this dual milestone special day.
2. Ding Dong
The Dancehall dance king whose real name is Kemar Christopher Dwaine Ottey wedded his long-time girlfriend Tashauna earlier this summer. The "Flairy" artiste is quite reserved about his personal life. He is yet to make any public statements regarding his newly-wed status, but multiple celebrities who were in attendance at his lavish wedding congratulated him online. Jamaican-American rapper Safaree Samuels and his fiancée Erica Mena were one of the celebrity couples who witnessed Kemar and Tashauna exchange vows and later saluted him on social media.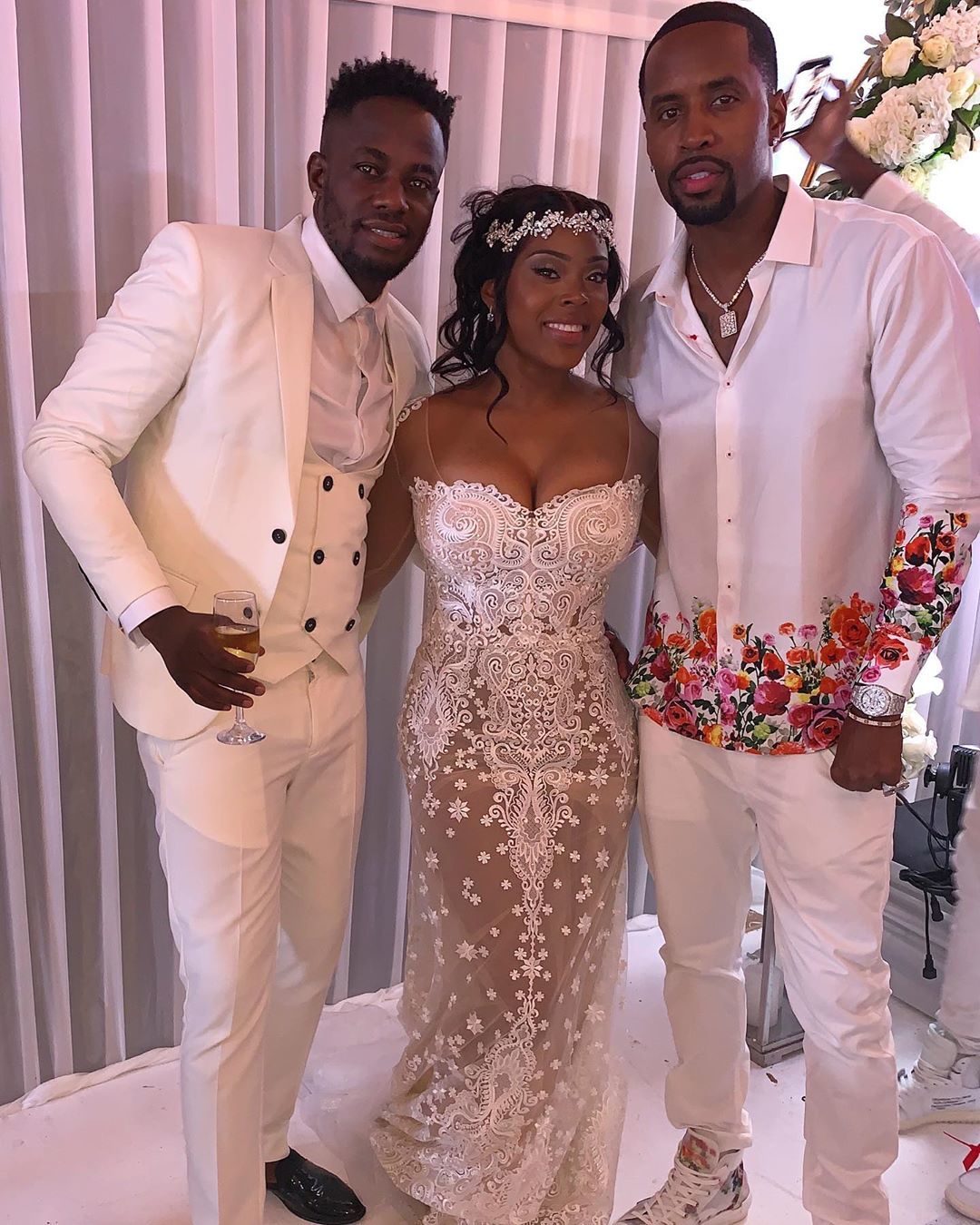 "Congratulations to Mr & Mrs. Ottey.. The energy of Love is so strong around them you could feel it! thank you for inviting me so I could steal ideas for my wedding wouldn't miss it for the world @dingdongravers," Safaree wrote on his Instagram. The wedding reception was described as an all-white ravers party in Kingston, Jamaica. Romeich Entertainment CEO and Ding Dong's career manager, Romeich was the groom's best man and also toasted the artiste on Instagram. "Congrats bro bro @dingdongravers wonder when a my time? All the best and happiness thanks for making me your #BESTMAN," Romeich wrote alongside a photo of him in the car with the happy groom.
3. Mavado
Mavado, also known as The Gully Gad, exchanged vows with his spouse Monique McKenzie at a private wedding at Broward County's City Hall in Florida in 2012. The Jamaican deejay born David Constantine Brooks shares two children with his wife, Vuitton and Daisy. Mavado is known to keep a low-profile with his family and has to this day remained quiet about his marriage. Though the "Star Boy" does not leave much evidence of his marital status, he does, however, share an occasional photo of his wife and kids on social media. Mavado also had three other kids prior to getting married to Monique. In a rare moment, Mavado shared a photo of him and his wife on a romantic excursion. The "Me Alright" deejay can be seen laying in bed in a white robe with the covers decorated in red rose petals. The couple celebrated their seventh wedding anniversary this year.
4. Aidonia
Dancehall giant Aidonia who was born Sheldon Lawrence, married his long-time fiancée and mother of his child Kimberly Megan in September 2016. The couple tied the knot at Firefly, St Mary in an intimate ceremony in the company of their close friends and family. The duo is often lauded on social media for "relationship goals" and perhaps also because they're quite a good looking couple. They share one child, a 6-year-old son, King Khalif Lawrence.
Aidonia's music is often speculated to be about his beautiful other half, including "Girl You Are The One." Though he remained tight-lipped about his wedding ceremony in 2016, he hasn't been shy about sharing since he became a husband. Commenting on his married life in an interview some months after the wedding, Aidonia said, "Great, cya complain enuh. Happy wife, happy life." The couple is celebrating their third wedding anniversary this month.
5. Agent Sasco
Agent Sasco has been a married man for eight years. The "Winning Right Now" artiste whose real name is Jeffrey Campbell and his wife Nicole McLaren-Campbell got married in January 2011. Urban Islandz exclusively reported that the deejay had a private wedding ceremony at a luxury hotel. A source told us at the time that "It was not a big thing, just close friends and families, but it was a really nice wedding, and Jeffrey is happy." The couple welcomed their second child six months later in July 2011.
They are currently parents of a son, Joshua Campbell more popularly known as JC and daughter Lauren Campbell more popularly known as LC. The family has become somewhat of a small social media sensation. Little sister LC is a very bright and animated personality. Her passion for the performing arts is often evident in her many viral videos online where her mother typically records, and her father is usually a willing participant in her charades. Jeffrey and Nicole will be celebrating their ninth wedding anniversary in January 2020.