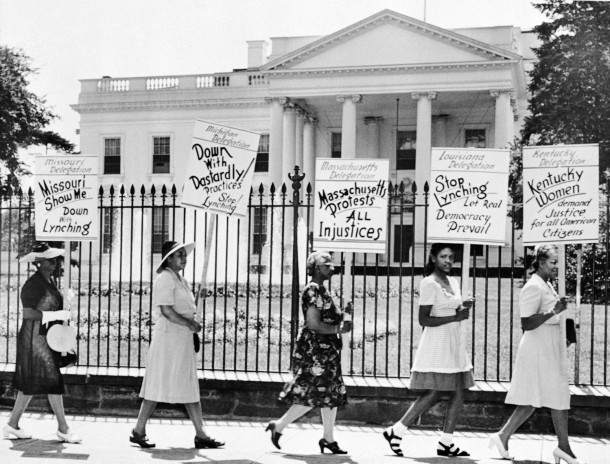 1. National Association Of Colored Women Protest
When: 1946
Where: Washington D.C.
Catalyst: In 1946, two Black couples were lynched…
When: 1946
Where: Washington D.C.
Catalyst: In 1946, two Black couples were lynched at Moore's Ford Bridge in Georgia. The couples, one of which were expecting a baby, were brutally attacked by a White mob, who shot the couples and hung them from trees.
What Happened: Angered by what has been come to known as the "Monroe Murders," 50 members of the National Association of Colored Women traveled to Washington D.C. and picketed outside of the White House, demanding that laws be passed outlawing lynching. "America, our home, let it be known that lynching must cease," one of their signs read.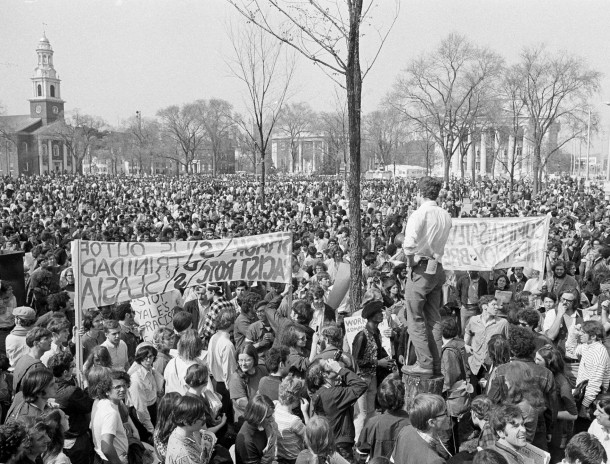 When: April 7, 1970
Where: New Haven, Conn.
Catalyst: On April 2, 1969, 21 Black Panther members were arrested in New York City for conspiring to bomb various landmarks. The following, Black Panther chairman Bobby Seale and eight other members were charged with murder. Their arrest spurred the formation of the Black Panther Support Group at Northeastern University.
What Happened: The afternoon of April 7, 70 students in the group began marching from the campus to downtown Boston, chanting and holding signs that read "Free the Panthers." Along the way, more than 1,900 other Black supporters joined the march. Once reaching the post office downtown, they listened as former Boston Black Panther chairman Doug Miranda and Artie Seale, wife of slain Black Panther Bobby Seale, delivered speeches urging them to not give up.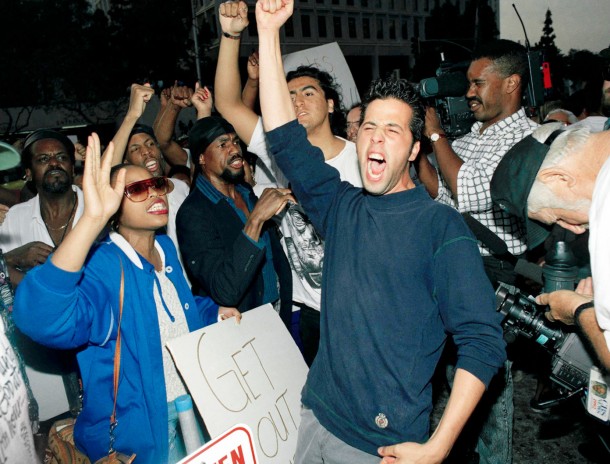 When: April 1992
Where: Los Angeles
Catalyst: In March of the previous year, Rodney King was brutally beaten by police officers after leading them on a high-speed chase. One of Rodney's neighbors videotaped the beating, which showed police striking him with clubs 56 times, causing King to suffer from 11 fractures.
What Happened: After the four officers were acquitted of the attack in 1992, race-fueled riots began to erupt throughout the city. A truck driver was forced from his truck and beaten, stores are looted and shops are burned down. The riots prompted a city-wide curfew, and the governor of California declared a state of emergency. Rodney King issued a plea, asking, "Can we get along? Can we stop making it horrible for the older people and the kids?" In 1994, the city of Los Angeles awarded King $3.8 million in compensatory damages; he had asked for $56 million.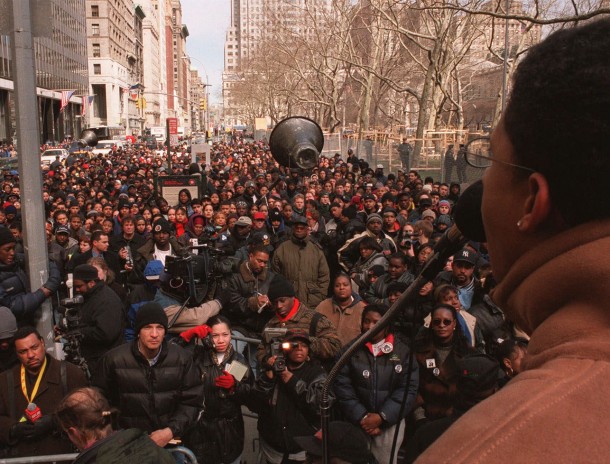 13. Amadou Diallo Protest
When: 1999-2000
Where: New York City
Catalyst: On February 4, 1999, four NYPD officers fatally shot Guinean immigrant Amadou Diallo, who was unarmed and standing outside of his Bronx apartment building. Mistaking him for a serial rapist, police officers fired 41 bullets at Diallo, 19 of which struck him. He died outside of his building. Though the four officers were charged with second-degree murder, they were all acquitted.
What Happened: Six weeks after the shooting, hundreds of protestors stormed police head, blocking entrances and holding signs that read "I'm Afraid of the NYPD." On that day, more than 200 civilians were arrested, which, at the time, was the most in one day in New York City history. Many of the protestors were criticizing then-mayor Rudolph Giuliani for not doing anything about police brutality.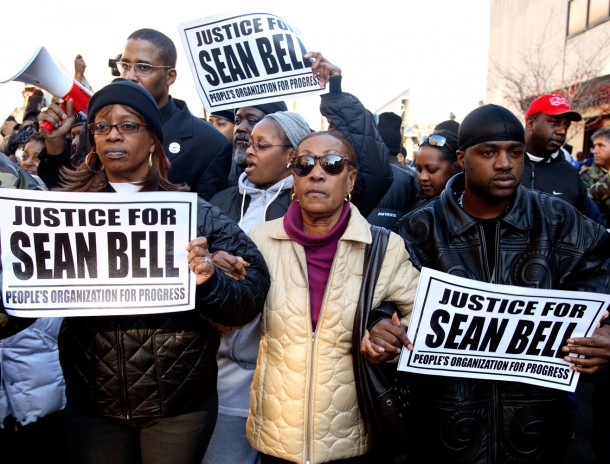 When: November 25, 2006
Where: Queens, New York
Catalyst: The night before his wedding, 23-year-old Sean Bell was leaving a strip club with friends when undercover police officers, who were surveying the area for prostitutes, thought they heard the group of young men threaten them. Police officers fired 50 rounds of gunfire at Bell and his friends, killing Bell and wounding his two friends.
What Happened: Rev. Al Sharpton led hundreds of protestors through the streets of New York, protesting the cops, who were acquitted of their crimes. In total, more than 200 protestors were charged with disorderly conduct for blocking various bridges.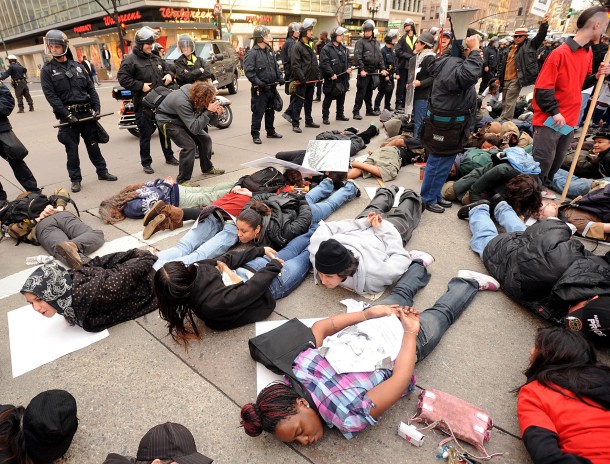 h
When: 2009
Where: San Francisco
Catalyst: On New Years Day of 2009, a cell phone video captured Transit Officer Johannes Mehserle shooting 22-year-old Oscar Grant in a San Francisco subway station, Fruitvale Station. The officers were investigating a fight on a train, and Grant, who was a bystander, was lying innocently on the ground.
What Happened: The day after Oscar Grant was slayed, hundreds of protestors took to the streets of San Francisco, smashing windows and burning cars. Law enforcement officials arrived on the scene with tear gas and nightsticks and arrested 120 people.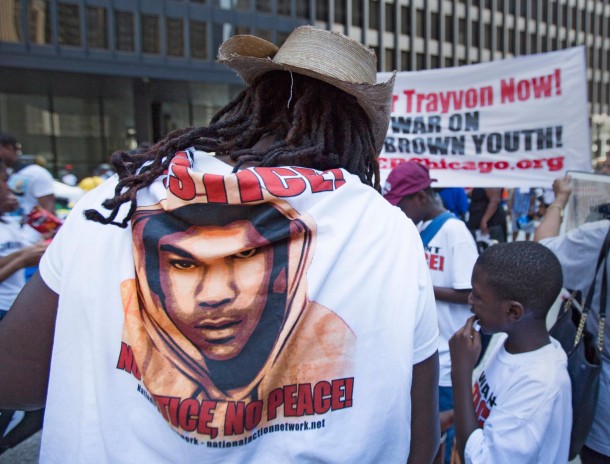 16. Trayvon Martin Protest
When: February 26, 2012
Where: Sanford, Fl.
Catalyst: On the night of February 26, 17-year-old Trayvon Martin was walking home from the store in a gray hoodie with a bag of Skittles. Zimmerman, who was a neighborhood watch person, called 911 to report Martin, who he described as "a suspicious person." Though operators urged Zimmerman to stay in his car, he approached the teen, attacked him and shot him in the head.
What Happened: Almost two months after the shooting, Zimmerman was charged with second-degree murder. In July 2013, a jury found him not guilty, which set off a firestorm of protests, many of which included people who donned gray hoodies representing the slain teen.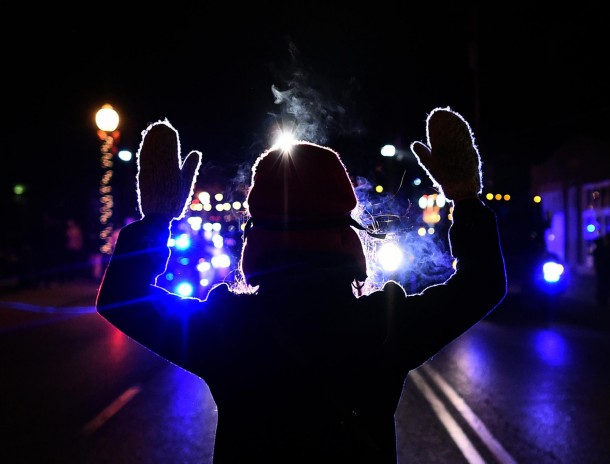 When: August 9, 2014 to present
Where: Ferguson, Mo.
Catalyst: On August 9, unarmed 18-year-old Michael Brown was shot and killed by police officer Darren Wilson.
What Happened: Demanding justice for Brown, protestors in Ferguson have tirelessly taken to the streets for more than five months. In November, a grand jury declined to bring charges against Wilson, which ignited the protestors even more. The fight is still ongoing.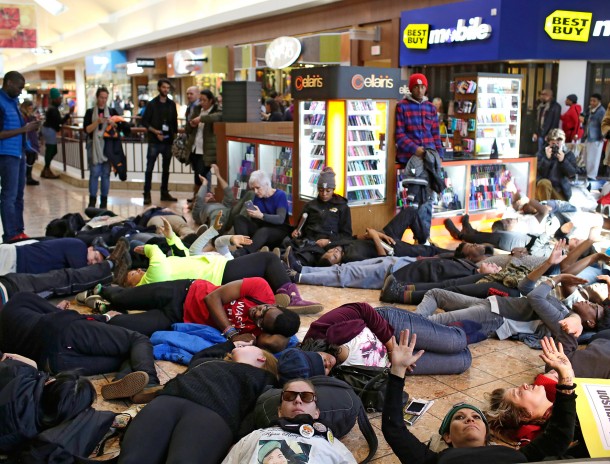 When: November 27, 2014
Where: Nationwide
Catalyst: Sparked by the grand jury decision and the lack of justice in the death of Michael Brown, many Black shoppers, using the hashtag #BlackoutBlackFriday, decided to boycott stores on Black Friday, the popular shopping day after Thanksgiving.
What Happened: Not only did thousands of shoppers protest the shopping holiday, but many staged die-ins at malls across the country and protested outside of popular stores.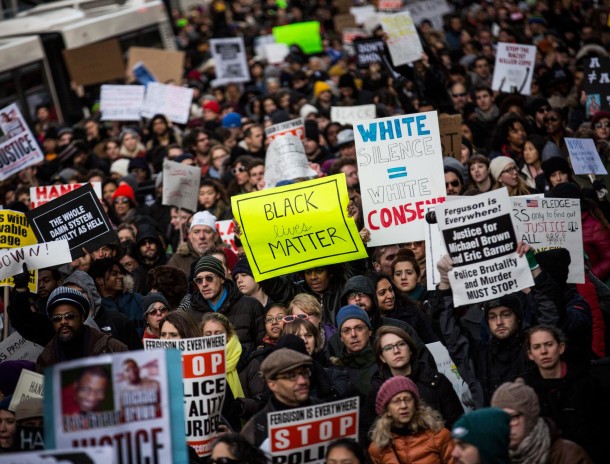 When: December 13, 2014
Where: New York City
Catalyst: On July 17, 2014, NYPD Officer Daniel Pantaleo put unarmed Staten Island resident Eric Garner into a fatal chokehold for allegedly selling illegal cigarettes. While in the chokehold, which is illegal practice for NYPD officers, Garner repeatedly yelled "I can't breathe," but policemen ignored his cries.
What Happened: Ignited by Garner's death—and a New York grand jury's decision not to bring charges against Pantaleo—as well as Michael Brown's slaying, 19-year-old Umaara Elliot and 23-year-old Synead Nichols organized a peaceful march through New York City, which drew more than 25,000 demonstrators.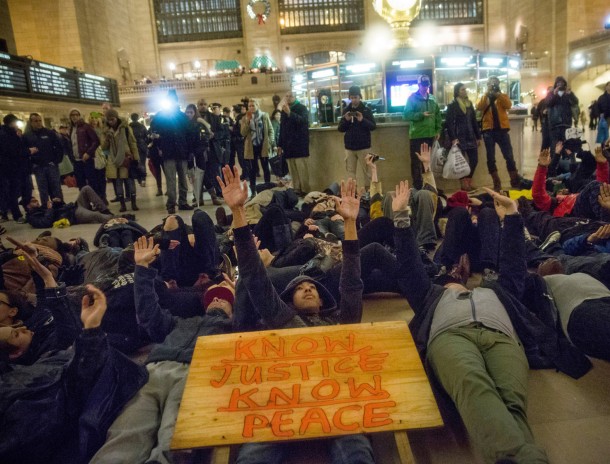 20. Die-In Grand Central
When: January 12, 2015
Where: New York City
Catalyst: After the August death of Michael Brown and the July death of Eric Garner, both slayed by policemen, protestors began staging die-ins around the country to raise awareness and demand justice.
What Happened: Defying NYPD orders, dozens of protestors staged a die-in at New York's heavily trafficked Grand Central Terminal. Dozens of protestors laid out on the floor throughout the night, taking shifts, as police officers ordered them to move. However, the activists were not deterred—they stayed at their posts for the rest of the night.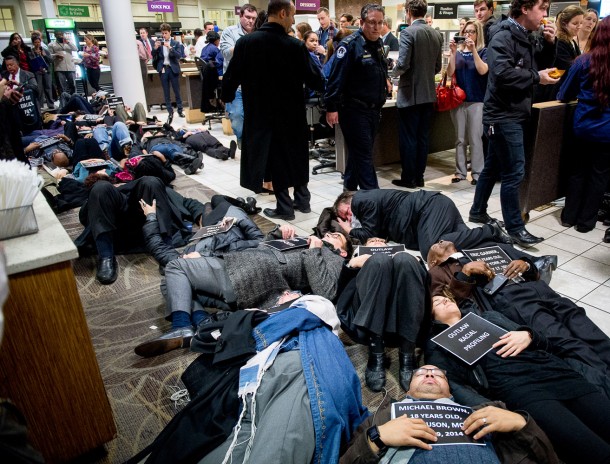 h
When: January 21, 2015
Where: Washington D.C.
Catalyst: In the ongoing fight for racial justice after the deaths of Michael Brown, Eric Garner and countless other Black lives, protestors took to Capitol Hill to demand the eradicating of racial profiling as well as "jump outs," a common practice in Washington D.C., where police officers—usually armed—violently stop-and-frisk Black men
What Happened: Chanting "Black Lives Matter," more than 50 protestors, including Jewish, Christian and Muslim clergy, stormed the Longworth Building cafeteria, a popular lunch spot for D.C. lawmakers on Capitol Hill. They staged a four-minute die-in, before being escorted from the building.
Read more: http://photos.essence.com/galleries/21-notable-moments-social-unrest-shaped-black-history/